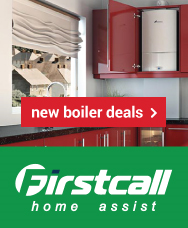 from as little as £17 per month
Edinburgh, Scotland (PRWEB UK) 19 March 2015
Firstcall Home Assist Scotland's leading provider of energy efficient boilers have teamed up with market leaders Worcester Bosch and Barclays finance to provide quality boilers with a complete 10 year warranty from as little as £17 per month.
£17 per month is possible because this agreement provides consumers with finance options that are at a lower cost and also provide more payment options. Often installing a new boiler is cheaper than paying maintenance on an old boiler, and further savings will be made from the higher efficiency of using a new boiler.
"Thousands of homes in Scotland have old inefficient boilers that are costing a fortune to run and when you add boiler cover to the costs you would be as well throwing money down the drain" says David Dodds Green Deal Manager.
To replace an old boiler with a new energy efficient boiler from Firstcall Call Home Assist could mean an average saving of around £30 per month, with boiler cover costing an average of £20 per month this creates further savings as our boiler come with a 10 year warranty as standard.
Firstcall Home Assists boiler can install a new boiler from as little as £17 per month which means by installing a new Worcester boiler with Firstcall the customer can actually save around £30 per month.
As a result of home owners becoming more aware of reducing carbon, creating healthier world to live in and making substantial savings this has led to an increase of sales which has allowed us to employ an additional 25 directly employees gas engineers and a further 8 apprentices.
For more information or to arrange a free quote please visit firstcallhomeassist.co.uk