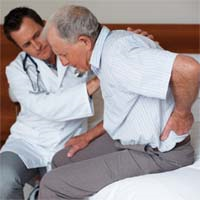 47% of patients alive at week 5 had an improvement in their pain.
Raleigh, NC (PRWEB) February 10, 2015
Cancer researchers in the UK say the widespread practice of using radiation to treat mesothelioma patients who are in pain really can make a difference for some patients. Surviving Mesothelioma has the full story on its website. Click here to read it now.
Scientists at the Edinburgh Cancer Research Centre in Scotland and two other UK cancer centers put palliative radiotherapy to the test and found that it helped relieve pain for a significant number of mesothelioma patients.
"Based on a complete case analysis of the 30 patients assessable at week 5, 47% of patients alive at week 5 had an improvement in their pain," writes investigator Dr. Nicholas MacLeod.
According to the report in the Journal of Thoracic Oncology, the phase II trial included 40 mesothelioma patients who were given 20 Gy of radiation in 5 daily fractions. Those who improved saw results in about 5 weeks.
"Although radiotherapy is often used for mesothelioma pain relief, there has been little evidence that it actually works," says Alex Strauss, Managing Editor of Surviving Mesothelioma. "This study shows that there is real hope for mesothelioma patients who are coping with pain and their families."
To read the details of the new radiotherapy research and learn more about the underlying causes of mesothelioma pain, see Evidence Supports Radiotherapy for Mesothelioma Pain Relief now available on the Surviving Mesothelioma website.
MacLeod, N, et al, "Is radiotherapy useful for treating pain in mesothelioma? A phase II trial", February 4, 2015, Journal of Thoracic Oncology, Epub ahead of print, http://www.ncbi.nlm.nih.gov/pubmed/25654216
For nearly ten years, Surviving Mesothelioma has brought readers the most important and ground-breaking news on the causes, diagnosis and treatment of mesothelioma. All Surviving Mesothelioma news is gathered and reported directly from the peer-reviewed medical literature. Written for patients and their loved ones, Surviving Mesothelioma news helps families make more informed decisions.