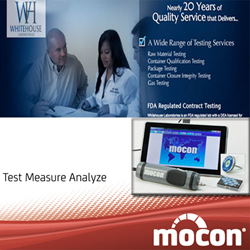 We are committed to meeting the routine and unique testing requirements of our clients and this once again shows are willingness to meet that corporate objective
New York, NY (PRWEB) February 12, 2015
Whitehouse Laboratories, in its continual effort to meet both client and regulatory testing requirements, is pleased to announce that it has made a capital investment in a new Mocon Optical Fluorescence O2 Analyzer to be used for Measuring Headspace, Dissolved Oxygen, Oxygen Permeation and Package Leaks. The Optech O2 Platinum instrument represents the most state of the art multi-purpose analyzer for food, beverage, pharmaceutical and medical applications where measuring oxygen and understanding its effect on product and product shelf life is critical. Specific applications include non-destructive shelf life analysis, film permeation (including perforated films), package permeation, headspace (invasive and non-destructive), dissolved oxygen and total package oxygen (TPO). With its strong focus on container and package qualification testing, this new instrument and service area will enable Whitehouse Laboratories to offer more enhanced services to clients in need of O2 testing.
"In working closely with a few clients on very unique package testing programs, we identified this specific instrument and service area as one that was becoming more critical in the qualification of package systems in the short and long term," stated Mark Stier, Chief Operations Officer of Whitehouse Laboratories. "As a result, we immediately developed a plan of action to acquire and implement this testing. We are committed to meeting the routine and unique testing requirements of our clients and this once again shows are willingness to meet that corporate objective."
"The OpTech is breakthrough technology and offers a simple effective method to quickly evaluate what is happening inside a closed package," explained Doug Lindemann, vice president, MOCON. "We are delighted that Whitehouse Laboratories will be offering this testing method for its clients," Lindemann added.
Utilizing Florescence Technology, the versatile OpTech-O2 provides accurate results in a simple and effective manner. Fluorescent chemistries, such as the platinum chemistry used in the OpTech-O2, give off light when stimulated or excited by an external light source. The rate of decay of the fluorescence is directly proportional to the concentration of oxygen present. This is read by the OpTech Detector and reported as a percentage of oxygen present in the package. Fluorescence Technology does not consume oxygen, making it ideal for long term oxygen studies. The use of Platinum Chemistry offers an increased measuring range, an increased level of sensitivity, more stability in ambient light, is less affected by temperature changes and leads to an overall longer usable timeframe for the instrument.
About Whitehouse Laboratories
The Testing Partner to Manufacturing Companies, Whitehouse Labs is an FDA regulated, DEA Licensed, ISO 17025 and ISTA certified contract service provider to the pharmaceutical, medical device, personal and consumer product industries. Whitehouse Laboratories offers analytical services for the testing of materials, finished products, container and package systems that enable our clients to meet and exceed the required quality standards established by the key regulatory agencies.
About MOCON
MOCON is a leading provider of instrumentation and consulting and laboratory services to medical, pharmaceutical, food and other industries worldwide. See http://www.mocon.com for more information.