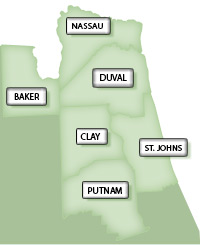 Duval county zip codes 32234 experienced a whopping 400% rising home sales
Chicago, IL (PRWEB) February 08, 2015
Peoples Home Equity, a mortgage lender based in Nashville, identifies opportune fourth quarter housing growth in Jacksonville, Florida.
According to quarterly data provided by DQnews.com Jackson's fourth quarter housing growth can be divided into five counties. Downtown Jacksonville composes of Duval County, outside the city ring created by interstate 295 resides Nassau County to the North, Baker County to the west, Clay County to the southwest, and St. Johns County to the south.
Duval County
Overall, Duval county has experienced very little growth since 4th quarter 2013 with median home sales rising just 0.6% and median home sale prices increasing 4.8%. However, within the county there were some outstanding neighborhoods for both first-time homebuyers and investors. Duval county zip code 32234 experienced a whopping 400% rising home sales while home sale prices grew just 0.7%. Other neighborhoods like zip codes 32220 and 32219 respectively saw sales increase 90% and 35% while their sale prices fell -8.7% and -2.7%. Peoples Home Equity view this type of activity and opportune for buyers. There is obviously high interest to purchase properties in the area and the demand is not pushing up selling prices. This means there is still probably plenty of opportunities for buyers to enter the market today, especially in the middle of the winter market slump!
Conversely, there were neighborhoods that experienced a direct relationship between higher home sale prices and lower home sales. These neighborhoods were zip codes 32277, 32202, and 32211 which respectively recorded home sale contractions of -51.9%, -30.8%, and -26.7% while home sale prices in the area increased 6.7%, 30.8%, and 35.9%.
The lowest selling price zip code in Duval county was 32254 at $71,000, this area experienced a 4th quarter price contraction of -37.2% compared to 4th quarter 2013. On a positive note, 32254 also experienced a 24.1% rise in sales highlighting the fact that some buyers took advantage of the lower listing prices in the area.
Outside Duval County, in Nassau County, one notable zip code was 32046 "Hilliard" which experienced a sales increase of 166% and also a price increase of 14.9%.
To the west in Baker County, the neighborhood with the highest number of home sales (41) was Macclenny, zip code 32063. While sales were the highest in this neighborhood of Baker County, sales actually contracted -7% year-over-year and price rose just 3.7%.
Overall Clay County experienced an impressive rise in both median home sales and prices. Sales rose 19% overall and prices increased a respectable 5%.
Lastly, Saint Johns County remained relatively unchanged overall at just a 2.5% increase in sales and a 3% increase in prices. However, a zip code in the neighborhood of Saint Augustine (32095) showed great results at a 44.4% rise in 4th quarter sales versus 4th quarter 2013, and prices also rose 24.8%.
Please note: Peoples Home Equity has two branch locations in the Florida. If interested in purchasing a property in the Jacksonville area, consider speaking to a http://www.peoplesh omeequity.com/ [People Home Equity __title__ Peoples Home Equity]loan officer today at: 262-563-4026