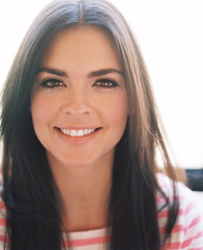 New York, NY (PRWEB) February 09, 2015
According to History.com, St. Valentine's Day became "associated with love and romance" in the 1300s. Today, "62% of adults say they celebrate Valentine's Day." From finding the perfect gift for that special someone, booking a hard-to-get reservation at the best restaurant in town, or planning the ultimate singles party, planning the perfect celebration can take its toll and turn the day of love into a big headache. Luckily, author, culinary expert and co-host of Food Network's The Kitchen Katie Lee partnered with Chase Freedom to share stress free Valentine's Day tips for everyone!
Here are a few points Katie discusses:

Valentine's Day Celebrations for singles, couples, and families
Sparty: Throw the ultimate singles party with a spa-party
Sparkling Chef: Valentine's Day is the perfect day to show off your kitchen skills at home.
How to set the mood for romantic homemade dinner
Choose a menu that is easy to execute and indulgent without being too heavy
Valentine's Day isn't the time to wing it -- make a plan!
Don't forget a Valentine's Day card!
Break out the bubbly
Use Social Media to find perfect gift for that special someone
Give a "giftivity" – a gift that provides a fun activity
Make something with love! – There's no need to spend a lot of money to give a thoughtful Valentine's Day gift.
How to earn extra points from your partner and for yourself!
Just in time for Valentine's Day, Chase Freedom is offering card members 5% cash back on purchases at grocery stores and movie theaters from now until March 31, 2015.
For more information, images and a video of Katie Lee's tips, go to: magicbulletmedia.com/MNR/ChaseFreedom
About Katie:
For Katie, culinary personality and co-host on Food Network's The Kitchen, cooking wasn't just a hobby growing up—it was a way of life. Raised in a modest, tight-knit West Virginia family, each evening centered around the dinner menu. Eager to get involved, Katie began cooking at the tender age of four under the guidance of her mentor, Grandma Dora. Using fresh vegetables from her grandpa's garden and meat from the family's cattle and pig farms, Katie quickly learned the value of seasonal ingredients. Katie's first cookbook, The Comfort Table, was released in 2008, soon followed by The Comfort Table: Recipes for Everyday Occasions (2009). In addition to her comfort food cookbooks, she writes a column for SELF and published her first novel, Groundswell, in 2011. Outside of her culinary and literary adventures, Katie sits on the Celebrity Board for Feeding America. When not working or volunteering, she enjoys surfing, traveling, and playing with her pug, Fionula. She resides in the Hamptons and Tribeca.
Katie has a beautiful new cookbook coming out April 2015, the Endless Summer Cookbook, featuring over 100 new recipes perfect for summer. Watch Katie every Saturday at 11 a.m. EST on Food Network's The Kitchen, a weekly daytime cooking show running the culinary gamut, including food trends, recipes, family meal tips, trivia games, and guest interviews.