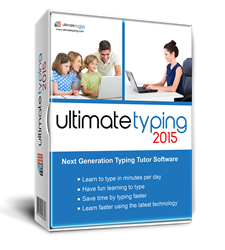 The program helps children and adults quickly master this essential technical skill with the keyboard.
New York City, NY (PRWEB) February 10, 2015
eReflect, developer of Ultimate Typing™ and other self-improvement educational software products, wishes to inform the public that a new post published on the Ultimate Typing™ blog highlights top reviews of its industry-leading program, Ultimate Typing™. The reviews from EdTec Review, Tina's Dynamic School Plus, and Always Review are featured in this post.
Several learn to type software products are available on the market today, but only one holds the top position as the best typing program worldwide. That program is Ultimate Typing™, according to several reviews of the program by homeschooling bloggers, educational technology organizations, and rate and review sites. In this blog post, eReflect's editors focus on three independent reviews of Ultimate Typing™.
The typing software reviews unanimously conclude that Ultimate Typing™ is an invaluable touch typing program for anyone who wants to learn how to touch type in a way that's fun, fast, and above all efficient. This user-friendliness is highlighted by the Always Review editor, who emphasizes it in the evaluation. "With the ease of use and effectiveness of this software," the editor notes, "you will have to look long and hard to find a product that offers the same level of performance as this software. For the amount it is sold for, it is very good value for money."
EdTech Reviews, an advocate of tech-based learning in schools, confirms that Ultimate Typing™ EDU — the classroom release of the Ultimate Typing™ program — is an essential resource for educators and a valuable tool for students. The program helps children and adults quickly master this essential technical skill with the keyboard. The EdTech Reviews editors underline the importance of incorporating touch typing programs into the educational system. "Touch typing and keyboarding skills are essential to prepare students for today's highly-competitive job market, and eReflect offers Ultimate Typing™ EDU to help educators and students achieve this important goal."
The perspective of a blogger who homeschools her children is also featured in this blog post. The review by Tina, a homeschooling mom, confirms the claims laid out by the previous reviewers. She agrees that the program is user-friendly and effective in teaching young people how to touch type while keeping the learning process compelling, motivating, and fun.
*********
For more details on Ultimate Typing™ please visit http://www.ultimatetyping.com/.
For more details on Ultimate Typing™ EDU please visit http://www.ultimatetyping.com/schools.
About Ultimate Typing™
Ultimate Typing™ software is designed specifically for the improvement of typing skills. Created by eReflect, a world leader in e-learning and self-development software, Ultimate Typing™ has been informed by the latest developments in the science of touch typing.
Since its creation in 2006 by Marc Slater, the company has already catered to over 112 countries all over the world, offering products with the latest cutting-edge technology, some of which are among the world's most recognized and awarded in the industry.