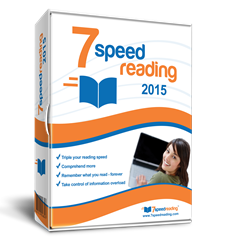 Reading should be seen as an activity people can turn to in their lowest moments for inspiration and encouragements
New York City, NY (PRWEB) February 11, 2015
7 Speed Reading™ has published a new post on the beneficial effect of reading, explaining how reading can affect a person's life, mindset, and emotional state. The editors at 7 Speed Reading™ firmly believe that reading has the power to teach, inspire, and motivate people. They provide several key reasons to support their claim that reading will also help people revisit their values and priorities, and inspire them to make life changes for the better.
According to the 7 Speed Reading™ editors, reading has the power to directly affect the brain. The editors cite an Emory University study in which the researchers discovered that merely reading about an activity stimulates the brain to replicate the act or gesture. The results of this study indicate that a person's brain and thought processes are malleable and subject to growth and improvement.
eReflect and 7 Speed Reading™ encourage people to read more, for these and many other reasons. Reading provides multiple benefits. People who read widely gain important advantages in their professional lives. Reading helps people widen their understanding of themselves and their world, and offers them new tools and concepts to think with. According to the speed read blog editors,
"Books give us cues to follow and hint at possible solutions; they present puzzles to solve and issues to ponder. Books are enthralling windows to our psyche. They hold us by the hand while we pry into the unending space of our shared humanity."
As the designer of 7 Speed Reading™ software, eReflect acknowledges the fact that the majority of people lead busy lives, and that this often leaves little time and energy for reading. eReflect recommends that people in this situation look for the best speed reading software and use it to learn how to read and digest knowledge faster.
Reading is an indispensable habit, and one that more people need to integrate in their lives, as 7 Speed Reading™ and eReflect agree. Books can be companions, mentors, and friends. Reading should be seen as an activity people can turn to in their lowest moments for inspiration and encouragements, eReflect concludes, and this is only one of the valuable powers books have on peoples' lives.
************
For more information about the benefits of using 7 Speed Reading, please visit the official website at http://www.7speedreading.com.
About 7 Speed Reading™
7 Speed Reading is the only modern speed reading software that uses the latest technology to produce superior results.
The software provides its users with a new way to master speed reading that guarantees three times the reading speed along with improved memory and comprehension.
The software is poised as the most comprehensive speed reading system anywhere. It contains seven learning strategies, fifteen software activities, video training, advanced tracking capabilities and many more exciting features.