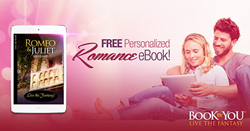 Most romantic story of all time now available as FREE ebook for Valentine's Day!
(PRWEB) February 09, 2015
One of the most famous and romantic stories ever written, William Shakespeare's "Romeo & Juliet", is now available as a FREE personalized ebook from Book By You, the first in the world to offer immediately downloadable personalized books. This version of the timeless romance has been adapted into prose by Charles and Mary Lamb and customized especially for the reader by Book By You.
Everyone knows the story: Two star-crossed lovers meet one fateful night and their worlds are never the same again. Juliet Capulet and Romeo Montague are mortal enemies— or at least, their families are. But when Romeo sneaks into a Capulet get-together with his cousin Benvolio and spots Juliet in the crowd, they fall in love instantly. Their struggle to be together, whatever the cost, is one of the most famous romantic tragedies of all time, and Book By You is thrilled to have made it into something everyone can star in. With four personalize-able characters, this abridged version of "Romeo & Juliet" can be made even more special by uploading a photo to be included in the personalized ebook. Add a steamy personalized Valentine's dedication, and the result is a remarkable ebook that can be taken anywhere and read any time.
Book By You's innovative personalized publishing platform makes gifts that are more unique than anything out there, allowing readers to literally become part of their favorite stories. Book By You is able to personalize thousands of books at the touch of a button by utilizing information entered in a special questionnaire— enter names, eye color, hair color, body type, favorite drink, and Book By You creates a truly one-of-a-kind book that can be treasured forever. This ebook version of "Romeo & Juliet" joins over 60 other titles available on this personalized platform and is available FOR FREE for a limited time in honor of Valentine's Day. Offer expires at the end of February. And, unlike most of the publishing world, Book By You encourages the sharing of its books with friends, family, loved ones— anyone who could use a good read.
To personalize a complimentary "Romeo & Juliet" ebook and to check out the other personalized ebooks, paperbacks, and hardcovers available for purchase, readers should go to the company's website at BookByYou.com and complete a character questionnaire specifying the information to be included in their book. The company offers a demonstration area where readers can preview personalized excerpts from any of the company's teen, romance, mystery or children's personalized books. Media interviews, additional information and promotional images are available upon request. Contact publish(a)BookByYou.com or 1-877-898-1440.