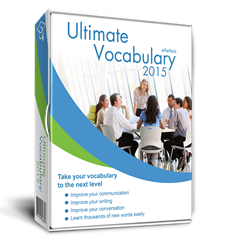 ...there are several important capitalization rules and exceptions people need to be aware of in order to avoid making mistakes in their written communication.
New York City, NY (PRWEB) February 13, 2015
Ultimate Vocabulary™, a language improvement software designed by eReflect, recently shared a post with the readers of its popular vocabulary blog on the proper use of capitalization. In this post, eReflect explains why being word smart is important. Every writer should be aware of grammar and other language rules in order to ensure that their writing is impeccable, as eReflect highlights in the post, and the company encourages people to brush up on capitalization rules to avoid making embarrassing mistakes.
The Ultimate Vocabulary™ editors explain in their post that there are several important capitalization rules and exceptions people need to be aware of in order to avoid making mistakes in their written communication. One little-known capitalization rule deals with adjectives. According to the vocabulary builder this rule that says that adjectives derived from proper nouns need to be capitalized. For example, the word "Orwellian" (derived from the name of author George Orwell) should always be capitalized. This word, which means "characterized by repression, propaganda, and misinformation," is often used to describe governments and societies that resemble the fictional world Orwell created in his novel 1984. Even though adjectives are not normally capitalized, this word needs to begin with a capital letter, to indicate its connection to the name of the author.
Acronyms and abbreviated words such as NASA, USA, and the APA are also always written in capital letters. This point is one that is made in the lessons contained in Ultimate Vocabulary™, an interactive vocabulary software that helps people learn new words easily and efficiently. The editors also explain that books, films, music albums, and other cultural products need to have their first letter capitalized. Another capitalization rule applies to titles (Dr.,Mrs.) historical sites (the Parthenon, the Louvre), planets, oceans, streets, and places.
While the words "king" and "queen" are not capitalized in general terms, there is one instance when their first letters must be in upper case. This is when they are used as titles precedes a name, as in "King George" or "Queen Isabella." Other titles are also capitalized; for example, "Doctor Watson" and "Professor Hawking." Titles like these are called "honorifics" and should always be capitalized when placed before a name.
eReflect's Ultimate Vocabulary™ editors also point out a common capitalization mistake made by adults as well as children: capitalizing the names of the seasons. The words spring, winter, fall, and summer don't need to be in uppercase notation. However, this is not the case for the words of the days and months, the Ultimate Vocabulary™ editor emphasizes in the post. For a full list of capitalization rules, eReflect encourages people to read the comprehensive guide published on the Ultimate Vocabulary™ blog, where they help English language learners to master this and other aspects of English vocabulary and grammar.
***********
For more information on how you can benefit from Ultimate Vocabulary, please visit its official website, http://www.ultimatevocabulary.com.
About Ultimate Vocabulary™
Ultimate Vocabulary provides a proven and powerful platform, built to improve anyone's vocabulary.
The interactive self-improvement system provides more learning tools than any other program on the market, as well as more information on words.
The Ultimate Vocabulary software provides each and every user with a personal computer tutor. Providing a step-by-step guide to learning a powerful vocabulary, Ultimate Vocabulary is the learning tool everyone can benefit from.
Of course, the software is also backed by eReflect's iron-clad money back guarantee.