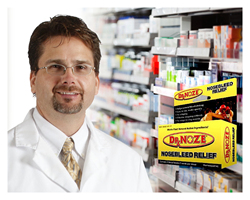 Cottage Grove, Wisconsin (PRWEB) February 10, 2015
ByzMed LLC announced today that Greg Dockter, RPh and inventor of DRx Noze® Nosebleed Relief was recently interviewed on the radio show - Xpress with Dr. X, M.D. on KAMU – NPR/PBS. The topic of the show was 'Ethics of Over the Counter Medicine and a Pharmacists responsibility of Over the Counter (OTC) Education'. Greg Dockter shared his years of personal experience as a pharmacist with callers and focused on the issue of nosebleeds.
Greg Dockter, a Pharmacist for a nationally recognized drug store chain, invented DRxNoze® the perfect solution for the millions of people of all ages that end up with nosebleeds. This patented homeopathic gel is applied directly inside the nose and can stop most nose bleeds in 60–seconds using ingredients that help to speed clotting and constrict blood vessels to stop the nose bleed. The gel formulated with natural active ingredients is applied to the problem area and in most cases the bleeding stops in one-minute without forming a large clot at the surface of the bleed – eliminating the need to pack the nose with gauze or tissues.
It was also announced that on February 13 – 15 Greg Dockter will be attending the Midwest Pharmacy Expo at the Iowa Events Center in Des Moines, IA. Pharmacists from all over the country have been reaching out to Greg because they have noticed that more and more customers of all ages are complaining about nosebleeds. The show will give hundreds of pharmacists the opportunity to meet with Greg personally and discuss the benefits of DRxNoze® and how they can now offer it to their customers.
Greg Dockter is one of the millions of people that suffer from frequent nosebleeds. During one occasion a patient visiting the pharmacy developed a nosebleed and the best solution he could offer was a tissue, this prompted him to develop his own nosebleed relief product DRxNoze®.