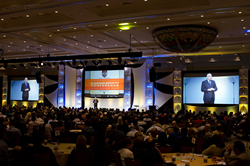 "Being selected as a PDS Showcase of Success presenter last year validated the hard work executed by my pharmacy team in 2013," said Jason Turner, Owner, Moundsville Pharmacy, 2014 Showcase of Success Honoree.
Palm Springs, Florida (PRWEB) February 09, 2015
Pharmacy Development Services (PDS), the leading provider of business education for independent pharmacy owners, has announced the ten recipients of the 2015 PDS Conference Showcase of Success Award. For the past nine years, the Showcase of Success segment has been an integral part of the annual business growth conference as a way to demonstrate the opportunities for real results in the industry. This recognition is presented to independent pharmacy owners who have demonstrated outstanding achievements in their businesses over the prior year. Their essays are thoughtfully reviewed and selections made by Dan Benamoz, Founder, President and CEO of PDS and his executive leadership team.
"We received more than 80 essays this year and have been blown away by the impactful stories of inspiration and business excellence these pharmacies have shared with us," said Dan Benamoz, President and CEO, Pharmacy Development Services. "These industry leaders have taken the concepts they've learned and turned them into actions that have literally turned around some aspect of their pharmacy business."
In order to be considered for the Showcase of Success, dozens of independent pharmacy owners submitted a 700-word essay to PDS. The essays articulated and addressed a significant business event, milestone or improvement achieved during the previous year. The essays shared by the pharmacy owners ranged from addressing employee culture and performance to increased business volume, number of prescriptions, revenue, gross margins and/or net income.
"Being selected as a PDS Showcase of Success presenter last year validated the hard work executed by my team in 2013 and inspired all of us to sustain our solid performance and commitment to meet our goals again in 2014," said Jason Turner, Owner, Moundsville Pharmacy, West Virginia, 2014 Showcase of Success Honoree.
The 2015 Showcase of Success award is sponsored by ComputerRX and will take place during the 2015 PDS Conference. The ten selected presenters will be honored as they take the stage February 20th and 21st at the Renaissance Hotel in Orlando. Each winner will have the opportunity to share their unique testimonials with 1,000 attendees in the audience.
"It is so fulfilling for our team to see these high performing pharmacists utilize the resources we have provided them with to overcome significant challenges and work hard to improve their business and their culture," said Sharon Rasnick, Vice President, Service Delivery, PDS.
The elite group of PDS Showcase of Success honorees and a guest will each attend a Champions Dinner hosted by PDS on February 20, 2015. Presenters will also receive an engraved trophy; a gift card valued at $500 to celebrate with their pharmacy teams and will be featured in an exclusive PDS published booklet that will be given to all conference attendees. Additionally, the other applicants who submitted essays will attend the dinner and will be included in the 2015 PDS Showcase of Success Booklet.
2015 Showcase of Success Winners
Armando Bardisa, South Miami Pharmacy, Miami, FL
Mike Bemis, Bemis Drug, Kimball, NE
Chris Cornelison, Iuka Discount Drug, Iuka, MS
Trey Crawford, Diket's Professional Drugs, Laurel, MS
Vicki Einhellig, Good Day Pharmacy, Loveland, CO
Mona Ghattas, Duran Central Pharmacy, Albuquerque, NM
Thomas Choquette, Bert's Pharmacy, Hastings, NE
Jim Lehan, Lehan Drugs, DeKalb, IL
Paul and Rebecca Reed, Reed Family Pharmacy, Ardmore, OK
Peter Wolfe, Wolfe's Pharmacy, Chauvin, LA
About Pharmacy Development Services (PDS)
Pharmacy Development Services (PDS) founded by President and CEO, Dan Benamoz, R.Ph, in 1998, is the leading membership-based service provider of top-tier business education for independent pharmacy owners nationwide. Through personalized coaching, customized training and easy-to-implement programming, PDS provides its members with innovative and effective business solutions to help them achieve growth, sustainability and profitability. For more information about Pharmacy Development Services and its events visit: http://www.pharmacyowners.com or call us at: 1-800-987-7386.

# # #