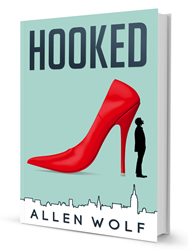 Laughter can make it easier for people to hear hard truths.
Los Angeles, CA (PRWEB) February 10, 2015
"Hooked" is a new comedic romance novel from an award-winning filmmaker about the unlikely romance between an autistic man and a prostitute in New York City. Filmmaker Allen Wolf aims for the readers to be drawn into the humor and drama of the story and will utilize a percentage of the proceeds from the sales of the novel to fight human trafficking.
"Hooked" ($14.99 Morning Star Publishing, February 2015) is a romantic comedy that follows Shawn, who is desperate to find a soulmate in New York City. He experiences one awkward date after another until he encounters the alluring Violet. He asks her out, but his autism prevents him from understanding she's actually a prostitute. This comedic tale is about two misfits whose only hope for a future is to discover the courage that comes from loving someone deeply. The story also reveals the underworld of human trafficking and encourages readers to get involved to make a difference.
The novel is based on a screenplay by Wolf that won numerous awards. Wolf decided to turn his screenplay into a novel before the film production to bring "Hooked" to a broader audience. "I thought a story about two people who are both dating-challenged, from completely different walks of life and the opposite from each other in major ways would stage a compelling dynamic that could teach all of us something about love."
While writing "Hooked," Wolf learned about prostitution by consulting with several anti-human trafficking organizations. "Hearing stories of women caught in human trafficking and prostitution was heartbreaking. I wanted to portray the journey in "Hooked" realistically but within the context of a unique romantic comedy since laughter can make it easier for people to hear hard truths. I wrote the story to pack a lot of punch only after readers have had a chance to relax and relate to these characters as real human beings."
Wolf describes how his novel is atypical in how it portrays its lead female character. "I didn't want to continue what I believe are false images of the prostitute as an 'empowered woman.' I couldn't find compelling evidence of that being a reality even though that image is frequently perpetuated in the media." His research inspired Wolf to donate 10% of proceeds from "Hooked" toward organizations fighting human trafficking. At the end of the novel, Wolf also encourages his readers to get involved in fighting trafficking, which is the fastest growing criminal enterprise of today.
Allen Wolf has won multiple accolades for his storytelling as a feature film writer, director and producer. Wolf's work has been recognized by over fifty awards for his work as a filmmaker and board game creator and the screenplay for "Hooked" has also won numerous honors. He is now working at producing "Hooked" into a movie.
"Hooked" ($14.99, 238 pages, 5 x 8, paperback, ISBN: 0-6922-7427-8) is available at Amazon, Barnes & Noble, neighborhood and online booksellers. 10% of proceeds from the sales of Hooked are donated to organizations fighting human trafficking.
Morning Star Publishing seeks to bring entertaining and compelling stories to a worldwide audience.
###