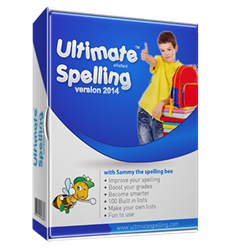 The wide range of spelling activities and games means that users of any age will enjoy using the program.
New York City, NY (PRWEB) February 16, 2015
Ultimate Spelling™ 2015 is the latest release of the industry-leading program by eReflect that teaches people how to spell. Software Boffin has previously evaluated earlier versions of the program, and this year they confirm their previous ratings, asserting that Ultimate Spelling™ is the go-to solution for teaching spelling. The editor at Software Boffin uses his in-depth review of the spelling software to explain exactly why it's worthy of first place and Boffin's 5-star rating.
"Ultimate Spelling is streets ahead of older products when it comes to spelling improvement (especially for children)," he notes. "One of the great points about Ultimate Spelling is that it has been developed to make spelling fun, rather than a drag, for children."
The reviewer highlights that the software's activities and learning methodology is based on proven principles that are grounded in thorough research, something that makes it a trustworthy solution for parents looking for a fun and efficient way for teaching spelling to their children.
eReflect is honored to have its spelling software recognized for its efficiency in promoting orthography skills in children and adults. Unlike most spelling programs that have a narrow focus only on the spelling of words, eReflect's Ultimate Spelling™ offers a complete approach to literacy improvement. The learner is immediately immersed in a well-rounded learning experience. While they concentrate on learning a word's spelling, they are also given the opportunity to learn its pronunciation, synonyms, and real life usage examples.
The wide range of spelling activities and games means that users of any age will enjoy using the program. In addition, users can create custom spelling lists, which means that they can easily adapt their spelling studies to match their current school curriculum. As the review notes, this is something that is an obvious benefit of the program, making it extremely useful to students, to teachers, and to homeschooling parents. eReflect thanks Software Review Boffin for their review and recognition of Ultimate Spelling™ as a trustworthy and high quality spelling program.
***********
For more information about how Ultimate Spelling software can improve spelling performance for you and your family, please visit the official website at http://www.ultimatespelling.com.
About Ultimate Spelling™
Ultimate Spelling provides a modern and easy to use spelling software that has been designed with one goal in mind – making children want to learn.
It is a fast and easy way to master even the most complicated spelling, without the need to write long lists or complete boring tests.
In fact, Ultimate Spelling provides more than just spelling help. It is a complete educational resource that boosts all level of a child's literacy.
Containing a personal computer tutor, Ultimate Spelling is the most realistic step-by-step guide to flawless spelling ability.