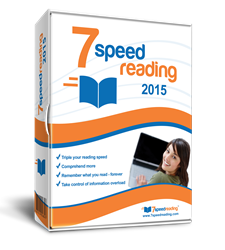 ...the program's interactive, user-friendly learning environment makes it fun and rewarding to practice.
New York City, NY (PRWEB) February 18, 2015
eReflect, designer of 7 Speed Reading™, features the first review of the software in the latest post on the official 7 Speed Reading™ blog. The review by Speed Reading Lounge offers gives a comprehensive overview of the software, and provides several reasons why people who want to learn how to speed read should choose this speed reading tutor.
For Speed Reading Lounge, eReflect's speed reading software is the top program for 2015 because of its winning combination of interactive video tutorials, fun exercises, and progress-promoting tests and reporting tools.
The Speed Reading Lounge editors argue that 7 Speed Reading™ is the most efficient in its category because of its combination of personalized instruction and wide range of activities. The editors placed other programs that help users learn to speed read, Ace Reader Elite and Iris, in second and third place in their review. The main reviewer, who personally practiced with the program, confirms the validity of eReflect's claim about how fast a person can learn to speed read using this program. The reviewer states that "... this attractive time-based approach helps [you] easily surpass average speeds of 250-300 words per minute. "
The editors at Speed Reading Lounge also highlight the fact that a user can set speed reading goals and monitor their progress. The reviewer confirms that the program's interactive, user-friendly learning environment makes it fun and rewarding to practice.
The review makes a point to explain that the cloud-based 2015 release of 7 Speed Reading™ ensures that the program is available to users anyplace, and at any time, wherever the user is in the world. The only prerequisite is an Internet connection and a web-enabled device. The Speed Reading Lounge editor concludes the review post with this verdict:
"7-Speed Reading is recommended by thousands of students and professionals who have tried and tested it. The quality of videos and exercises makes it an effective guiding tool, making it superior to its competitors." He adds, "it is beneficial for anyone at any age. Family and friends can take advantage of this program as there are no limits to user accounts."
************
For more information about the benefits of using 7 Speed Reading, please visit the official website at http://www.7speedreading.com.
About 7 Speed Reading™
7 Speed Reading is the only modern speed reading software that uses the latest technology to produce superior results.
The software provides its users with a new way to master speed reading that guarantees three times the reading speed along with improved memory and comprehension.
The software is poised as the most comprehensive speed reading system anywhere. It contains seven learning strategies, fifteen software activities, video training, advanced tracking capabilities and many more exciting features.