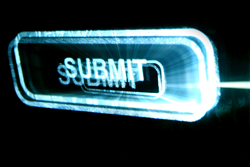 The laser etched signage samples kit initiative is part of Grand Image's ongoing effort to keep clients informed of the offerings at the printing company
Hudson, MA (PRWEB) February 25, 2015
Grand Image, Inc., the Massachusetts-based grand format printing company, sent over a hundred laser etched signage sample kits to clients in January 2015. The sample packs included an information card on each of the materials used in laser etching at Grand Image, Inc., as well as an actual physical sample of the material. The materials included in the kit were:
Cast Acrylic:
Used for edge lighting, edge portraits, and 3D lettering, cast acrylic is stronger than glass, has an above average optical quality, and is durable in most weather conditions. Common applications include edge lit graphics, logo etching, and more.
Styrene:
Used to create high quality stencils, styrene is a durable material with varying thickness. Common applications include stencils for painting letters, stencils of ornamental shapes, and stencils for street chalk and paint ads.
Extruded Acrylic:
Extruded acrylic has a clear etched finish, rather than the frosted white finish of other acrylic products. When laser etched, extruded acrylic edges are clean and smooth - similar to that of flame polished glass. Common applications include 3D shapes and letters as well as signage for corporations, museums, or similar applications.
Rowmark Plastics:
Rowmark Plastics formulates images within the plastic rather than printing on top of it, creating an extremely durable and lasting image. Rowmark Plastics is a two-tone material with an endless supply of color choices. The flexibility of this material makes it perfect for a wide range of signs including directories, personal identification, safety signs, and informational signs.
Wood:
Laser etching is available on a range of woods including oak, maple, walnut, pine, and cherry. Etched areas may be darkened with ink - typically black - to make the image really pop. Common applications include architectural models, promotional products, and ornamental pieces.
Aluminum:
Etched aluminum offers a sleek, cool end product that is perfect for many applications included countertop signs, way finding systems, and office directories. Etched areas may also be enhanced with ink, creating a really bold look. Laser etched aluminum signs may be single or double sided.
The laser etched sign sample kit initiative is part of Grand Image's ongoing effort to keep clients informed of the offerings at the printing company, a means of fostering innovation in final product vision and new applications for Grand Image's wide range of offerings. Other services offered by Grand Image, Inc. include billboard printing, visual magnetics printing, self adhesive graphics, fabric graphics, display signage, laser cutting and engraving, building wraps, and more.