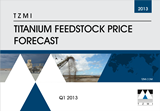 TZMI expects no relief in 2015 from the weak market conditions that have plagued the feedstock industry...
(PRWEB) February 10, 2015
In the latest Titanium Feedstock Price Forecast and TiO2 Pigment Price Forecast, TZ Minerals International (TZMI) reports that it expects market weakness to continue in the titanium feedstock and TiO2 pigment sectors. While it was thought 2014 would be a year of recovery, that has failed to eventuate and the markets in both sectors fell further in Q4 2014.
The Pigment Price Forecast Q1 2015 (PPF15Q1) uses a detailed analysis of the global supply/demand balance to provide a price forecast for TiO2 pigment to 2019 across all regions and across high and low quality products, plus in depth analysis of the factors influencing global pigment prices.
The Titanium Feedstock Price Forecast Q1 2015 (TFPF15Q1) covers pricing, trade and supply/demand balances for all feedstocks products on a global and regional basis. Quarterly price forecasts are provided to 2016 with annual price forecasts provided to 2019 both on a regional and global basis.
TZMI expects no relief in 2015 from the weak market conditions that have plagued the feedstock industry particularly for sulfate ilmenite which remains in significant oversupply. Weak pigment prices are expected to continue to dampen any upside to feedstock prices in the first half of 2015. Some operations could be curtailed or idled due to uneconomic operating conditions leading to a rationalisation of supply.
For TiO2 pigment producers, margins remain low in the face of macroeconomic conditions and the failure to gain any traction with prices increases throughout 2014. Consolidation is a major theme emerging in China in 2015 with TZMI expecting capacity to be shut down at lower quality and smaller pigment plants. The higher US dollar is also having an impact on non-US producers and lower oil prices are also having an impact on pigment producers.
With uncertainty surrounding the global macroeconomic outlook, particularly in China and Europe and the impact of this on feedstock and pigment markets, the price forecasts are essential for participants in these sectors.
The major producers of TiO2 pigment are: E.I. du Pont de Nemours & Co; Cristal, Huntsman Corp, Tronox Inc, Kronos Worldwide Inc and Ishihara Sangyo Kaisha Ltd. The major producers of TiO2 feedstock are: Rio Tinto, Iluka Resources, Tronox Inc, Cristal Mining, and Kenmare Resources. A number of new producers emerged in 2014 to add to global feedstock supply.
TZMI's price forecasts for the titanium feedstock and TiO2 pigment sectors are the only reports of their kind to regularly update, review and analyse developments on a quarterly basis to provide price forecasts out to 2019.
For more information or to order a copy please visit http://www.tzmi.com or email marketing(AT)tzmi.com
About TZMI
TZ MINERALS INTERNATIONAL (TZMI) is a specialist advisory services company for opaque mineral and chemical markets.
Established in 1994, the head office is located in Perth (Australia) and other offices in Shanghai (China), Houston (USA) and Durban (South Africa).
TZMI partners with clients from the private and public sectors to provide bespoke solutions across markets and strategic services and technical and engineering services. Our clients range from the world's 500 largest companies through to mid-sized companies and small businesses.
TZMI regularly releases market reports and periodicals on relevant subject matters which support the consulting activities and ensure up-to-date, high quality and comprehensive data, analysis and information is provided. TZMI provides operational and technical expert advice on many areas including:

Mergers and Acquisitions
Market Assessments and industry analysis
Due diligence
Pre-feasibility studies incl. preliminary capital and operating cost estimation
Competitive cost analysis and benchmarking
Technical reviews and audits
Resource assessments
Physical separation test work
Flowsheet development
Customised data analysis and reporting
FURTHER INFORMATION
Tracey McBain –Marketing Manager
TZ Minerals International
E: tracey.mcbain(AT)tzmi.com P: +61 8 9359 6000