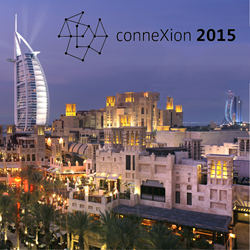 "LS conneXion is a must-be-there event for anybody that wants to learn about the solutions on offer..."
(PRWEB) February 10, 2015
The LS Retail partner and customer community and other retail and hospitality professionals will gather at LS Retail's annual Retail and Hospitality Conference and Expo, conneXion, to be held in Dubai on April 14-17, to witness the latest advancements in retail and hospitality technology. The theme of conneXion is "Easier, Simpler, Faster."
Setting the tone for what promises to be a noteworthy follow-up to the highly-successful conneXion held in Reykjavik in May 2014, LS Retail has announced that Microsoft and Hewlett-Packard (HP) will again be Gold Sponsors and exhibitors at the three-day conference.
Peter Vach, Independent Software Vendor Lead of Microsoft Dynamics for Europe, the Middle East and Africa, said on February 9: "Microsoft is delighted to be a Gold Sponsor again for this very important event. LS Retail is one of the leading ISV's for Microsoft Dynamics and is a key resource around the retail and hospitality industries. Together we see a fantastic opportunity ahead of us to help our customers be more productive. LS Retail's conneXion is a must-be-there event for anybody that wants to learn about the solutions on offer and be part of the journey. "
"Today's retail and hospitality environments are undergoing unprecedented change primarily due to the consumer's increase in adoption and use of technology," said Brad Tracy, Global Retail Segment Manager, Printing and Personal Systems, HP. "HP is working with LS Retail and their global reseller network to deliver solutions that enable retailers to embrace the new style of retailing and deliver inspiring customer experiences."
conneXion 2015 is expected to be bigger than last year's, and will again feature inspiring keynotes, innovative talks, educational breakouts, hands-on lessons, and valuable networking opportunities with other LS Retail and Microsoft Dynamics users.
It will also offer one-of-a-kind presentations to demonstrate how retail or hospitality businesses can thrive by turning current social trends into profitable opportunities thanks to:

Robust, flexible and easy-to-use retail POS solutions including tablet and mobile POS;
Member and Loyalty Portal and smartphone solutions;
Omni-channel all-in-one solutions;
All-in-one enterprise-wide capabilities from POS to P&L;
Advanced merchandising tools, and more.
conneXion's agenda will include over 45 sessions led by top international experts in retail and hospitality, including some of the industry's key influencers and global suppliers.
From consumers trends to technical tips and tricks, from customers success stories to inspiring keynotes, conneXion will address multiple issues in the retail and hospitality world and how the right technology can help not only in overcoming them, but also in giving businesses a competitive-edge while doing so.
Plus by registering to the conference before February 14th, attendees can save over EUR 200.
Workshops on Sales, LS Nav's update, LS First Hospitality and Forecourt, and LS One will take place on April 14, with the Conference and Expo to follow April 15-16. Several of the workshops are already sold out. A desert adventure by road will be offered on the 17th.
About LS Retail
With more than two decades of experience, LS Retail has been developing easy and practical software solutions to make the shopping and dining experience a pleasure worldwide. LS Retail solutions have been installed by over 3,000 companies with 50,000 stores operating 110,000 point of sale (POS) terminals in over 120 countries.
LS Retail established a regional office in Dubai in January 2014; their sales in the Middle East, Africa and India region it covers grew 100% last year.