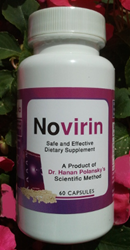 Adults are more likely than children to have complications from chickenpox. (4)
Rochester, NY (PRWEB) February 12, 2015
"Infected with the varicella zoster virus (VZV)? The CBCD, which conducted two separate post-marketing clinical studies on the natural, antiviral formula of Novirin, recommends taking this effective remedy to help the immune system target the latent VZV virus." - Greg Bennett, CBCD
Medical guidelines were recently updated by the Royal College of Obstetricians and Gynaecologists (RCOG) in the United Kingdom for pregnant women infected with the varicella zoster virus (VZV), which causes chicken pox. (1) This is important since there is increased morbidity (the relative incidence of disease) associated with chicken pox in pregnant women. "RCOG guidelines committee co-chairman Manish Gupta said, 'Chicken pox is very contagious so it is important that women are aware of the symptoms and the necessity to seek medical attention promptly.'" (1) When a woman contracts VZV during pregnancy, WebMD warns that "infection during the first 28 weeks … increases the risk of damage to the eyes, legs, arms, brain, bladder or bowel in 1% to 2% of babies." (See WebMD, Reviewed on January 21, 2015) (2) Louise Silverton, director for midwifery at the Royal College of Midwives, commented on the guideline updates, noting that "This is a welcome revision that clearly outlines the potential dangers around chickenpox in pregnancy and, also sets out precautions for women to take and treatment if needed … Whilst vaccination is not being recommended here, women who are uncertain that they have had chicken pox must avoid anyone with the infection." (2)
The Center for the Biology of Chronic Disease (CBCD) reminds the public that the varicella zoster virus is extremely contagious. The varicella zoster virus (VZV) causes both shingles and chickenpox. The two diseases are actually two phases of disease caused by the same virus. The first phase is always chickenpox. The second phase is always shingles. In between the two, the virus establishes a life-long latent infection.
The first phase "is highly contagious and can be caught by coming into contact with someone from 2 days before they develop a rash until all the blisters have crusted over. During this time chickenpox can be caught by being: in close contact with them, face to face with them for at least 5 minutes, in the same room as them for at least 15 minutes. Pregnant women who have already had chickenpox do not need to avoid contact. Women who are unsure whether or not they have had the disease can ask their GP for a blood test to check immunity." (2) When the immune system is weakened, the VZV virus can reactivate from a latent state, causing the disease known as shingles as well as other, serious complications.
The CBCD recommends that individuals infected with the VZV take Novirin to help maintain the strength of their immune system. Before becoming pregnant, the CBCD recommends that women stop taking Novirin, and then start taking it again after giving birth.
Click to learn more about Novirin and latent viruses.
The formula of Novirin was tested by Hanan Polansky and Edan Itzkovitz from the CBCD in two clinical studies that followed FDA guidelines. The studies showed that the Novirin formula is effective against the herpes simplex family of viruses, which includes VZV. The clinical studies were published in the peer reviewed, medical journal Pharmacology & Pharmacy, the first, in a special edition on Advances in Antiviral Drugs. Study authors wrote that, "individuals infected with the (VZV) … reported a safe decrease in their symptoms following treatment with Gene-Eden-VIR." (3) The study authors also wrote that, "we observed a statistically significant decrease in the severity, duration, and frequency of symptoms." (3)
Novirin can be ordered online through the product website, here: http://www.novirin.com
Novirin is a natural antiviral dietary supplement. Its formula contains five natural ingredients: Selenium, Camellia Sinesis Extract, Quercetin, Cinnamomum Extract, and Licorice Extract. The first ingredient is a trace element, and the other four are plant extracts. Each ingredient and its dose was chosen through a scientific approach. Scientists at polyDNA, the company that invented and patented the formula, scanned thousands of scientific and medical papers published in various medical and scientific journals, and identified the safest and most effective natural ingredients against latent viruses. To date, Novirin is the only natural antiviral product on the market with published clinical studies that support its claims.
"Adults are more likely than children to have complications from chickenpox." (See Patient.co.uk, last checked August 17, 2014) (4) Additionally, "Some people have a higher risk of developing complications from chickenpox. Anyone in the following groups should see a doctor urgently if they have symptoms of chickenpox: pregnant women (and) people with a poor immune system." (4)
What treatments are available for chickenpox?
"There is an effective vaccine that protects against the virus that causes chickenpox. It has become part of the routine childhood immunisation programme in certain countries such as the USA, Canada and Australia." (4) It should also be noted that "Antiviral pills such as aciclovir can limit the severity of chickenpox. These pills do not kill the virus, but stop the virus from multiplying. Adults or teenagers over the age of 14 with chickenpox may be advised to take an antiviral medicine - but only if it can be started within 24 hours of the rash first developing. If it is started after this time it is not likely to have much of an effect. So, if started on time, an antiviral medicine may help to reduce the severity of the illness. Antiviral medication is especially useful in situations where chickenpox can be more serious. For example, for people who have a poor immune system, newborn babies, and for pregnant women." (4)
Additionally, there are natural remedies. The oral antiviral product Novirin is one such remedy, which has a formula that was shown to be effective in reducing viral symptoms in two post-marketing clinical studies that followed FDA guidelines.
Click to learn more about Novirin.
All orders of Novirin are completely confidential and no information is shared or sold to any third party. Privacy is assured.
References:
(1) The Herald - "CHICKENPOX ALERT FOR PREGNANT WOMEN." - Published January 21, 2015
http://www.heraldscotland.com/news/health/chickenpox-alert-for-pregnant-women.116571713
(2) Russell, R. "New guidelines on chickenpox and pregnancy" - WebMD.com. Published January 21, 2015.
http://www.webmd.boots.com/pregnancy/news/20150121/new-guidelines-chickenpox-pregnancy
(3) Polansky, H. Itzkovitz, E. Gene-Eden-VIR Is Antiviral: Results of a Post Marketing Clinical Study. Published in September 2013.
http://www.scirp.org/journal/PaperInformation.aspx?PaperID=36101#.U-s9ouOSz90
(4) Patient.co.uk - "Chickenpox in Adults and Teenagers." Last Checked August 21, 2014.
http://www.patient.co.uk/health/chickenpox-in-adults-and-teenagers