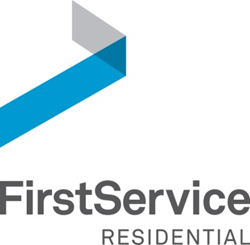 ...we had to integrate our HR operations across the board...Lupe was far and away the right person for this job.
DANIA BEACH, Fla. (PRWEB) February 09, 2015
FirstService Residential, North America's leading residential property management firm, has appointed Lupe Mujica as the national Senior Vice President of Human Resources (HR). The company restructured the department to oversee associates employed throughout 21 U.S. states and three Canadian provinces.
More than 12,000 associates came together when 18 subsidiaries consolidated under the FirstService Residential brand name in mid-2013, followed by additional acquisitions. "At the time of the rebranding, each subsidiary was a self-contained unit with its own set of procedures to handle its own human resources processes," said company CEO, Chuck Fallon. "It became clear we had to integrate our HR operations across the board to transform this decentralized collection of employees into a cohesive workforce and manage our personnel more effectively. Lupe was far and away the right person for this job."
Ms. Mujica is a veteran of the HR industry with a career spanning more than 20 years in retail and professionals services, including tenures with Toys 'R Us, Dayton Hudson Corporation (now Target Corporation), and Pacific Sunwear. She entered the property management industry acting as a consultant for self-managed associations for five years before joining FirstService Residential's then California subsidiary. She was serving as Vice President of Human Resources for FirstService Residential's West division when she was promoted and charged with overhauling corporate HR into a national structure.
Under the original decentralized model, the company operated 26 different payroll platforms, with all other work done manually (e.g., benefits administration, enrollment, and recruitment). Ms. Mujica developed a national Human Capital Management platform to unite recruitment, benefits administration, payroll services, health care and 401k plans, time and labor, and performance management. At the time of implementation, the scope of the project included 23 companies with an estimated headcount of 13,500 associates.
The enhanced system will allow Human Resources to shift from administrative tasks to strategic work. In her national leadership role, Ms. Mujica will implement and lead the organization's HR strategies and programs in the areas of recruitment, performance management, organizational design, and talent and leadership development. She will also manage the company's Shared Services benefits and payroll teams, as well as all aspects of its HR information services and technology platform.
Ms. Mujica is a graduate of Chapman University and a member of the Society of Human Resources Managers (SHRM), National Human Resources Association (NHRA) and Professionals in Human Resources Association (PIHRA).
About FirstService Residential
FirstService Residential is a subsidiary of FirstService Corporation, a global leader in the rapidly growing real estate services sector, one of the largest markets in the world. As the leading property management company in North America, FirstService Residential oversees more than 6,500 residential and commercial associations including 1.5 million residential units and over 50 million square feet of commercial space across 21 U.S. states and three provinces in Canada. The company has more than 13,000 employees driving local market expertise and manages in excess of $6 billion in annual budgets. For more information, visit http://www.fsresidential.com.
###