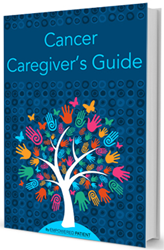 (PRWEB) February 10, 2015
Cancer. A powerful word. A diagnosis that no one wants to hear. In most cases, a diagnosis of cancer is the beginning of a journey filled with challenges — and in many cases, as those who have made the journey will tell you — rewards.
Cancer affects not only the patient – but family members and friends, as well – all those who are involved in the patient's life. In one way or the other, the people surrounding a cancer patient often find themselves in the role of caregiver.
Good caregiving is essential for a cancer patient. Few people can deal with the physical, emotional, and spiritual tolls of cancer, if they have to face the challenge alone. The quality of the caregiving a patient receives has much to do with the success of treatments and positive outcomes.
Yet, despite the enormous information one can find online about cancer, there are few precious resources that address the role of the cancer caregiver.
Empowered Doctor's "Empowered Patient Cancer Caregiver Guide" is a first step in addressing an important audience – the family members, friends, and others, who play the critical role of providing care to cancer patients.
The guide is available, without cost, on the Empowered Doctor website here.