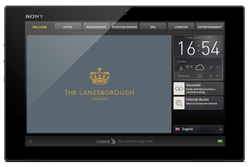 "We are confident that Crave Interactive offer the best solution available today to deliver a world-class and personalised in-room tablet."
london (PRWEB UK) 11 February 2015
Crave Interactive today announce that London's finest hotel, The Lanesborough, has selected Crave to supply in-room tablets to enhance the services provided to guests.
When the world-renowned London hotel, The Lanesborough, reopens its doors this spring following a major renovation, the guests will have the added benefit of a Crave tablet in every room. By blending advanced tablet technology with traditional and highly attentive personal service, The Lanesborough will reaffirm its position at the forefront of the hotel industry.
Crave Interactive will deliver a full range of services to The Lanesborough in multiple languages via the in-room tablets. These services include ordering in-room dining, digital hotel directory, spa reservations and multinational newspapers, as well as Crave's acclaimed London Guide will provide in-depth information about the capital's leading attractions. Combined with wireless keyboard and wireless printing, the Crave tablet will provide every guest with second to none in-room connectivity. Crave's in-room tablets will also allow guests to call for their own personal butler to provide that extra bespoke and traditional touch.
Geoffrey Gelardi, Managing Director of The Lanesborough said: "We pride ourselves in offering the latest innovations and state-of-the-art technology for our guests and are confident that Crave Interactive offer the best solution available today to deliver a world-class and personalised in-room tablet. Our ability to update information at a moment's notice and keep our guests informed is fundamental to delivering unrivalled service."
The installation at The Lanesborough also represents a prestigious new partnership for Crave Interactive, the UK market leader in providing digital in-room tablet and app-based solutions to the hospitality industry.
Tim Butterworth, Commercial Director at Crave Interactive commented: "We are delighted to have been chosen by The Lanesborough to install our tablets in the rooms. High on the list of the hotel's requirements was the ability to deliver a personal service, which is what Crave Interactive takes pride in delivering to its customers across the world".
/////
Notes for Editors:
The Lanesborough
With its enviable location, situated on the borders of Knightsbridge and Belgravia, in the heart of London and with panoramic views of Hyde Park, The Lanesborough has long been considered one of the world's most luxurious hotels. Its elegant surroundings, exquisite cuisine, unsurpassed attention to detail and world-renowned service are second to none. Having been closed for a major renovation since December 2013, The Lanesborough is scheduled to reopen in late spring of 2015 as part of the Oetker Collection.
For further information or visuals for The Lanesborough, please contact Clare Gillespie at LUCHFORD APM | Tel: 00 44 20 7631 1000 or E-mail: clare.gillespie(at)luchfordapm.com
Crave Interactive Ltd. is the UK market leader in developing apps and providing in-room tablets for the hospitality industry. Founded in 2009 and with a head office in Milton Keynes and a development centre in the Netherlands, Crave currently provides in-room tablet services to some of Britain's most prestigious hotels, with huge growth expected in 2015, both in the UK and overseas.
For more information please contact Tim Butterworth at Crave Interactive pr(at)crave-emenu.com