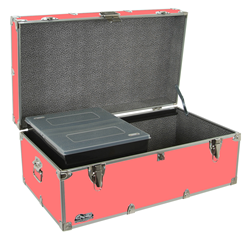 Give a fresh, new look to a C&N Happy Camper with one of these cool, new colors and make camp a blast!
Boyd, WI (PRWEB) February 09, 2015
Packing for summer camp is a big deal! All campers need to pack their camping gear, supplies, clothes, and other belongings in a container of some sort. Whether this container is a footlocker trunk, a suitcase, a duffel bag, or even a large backpack—if it works then it works. Some camps, however, prefer a specific type of container; check a camp's information packet to see what they recommend.
Footlocker trunks are often times the sort of container camps prefer because their strong, convenient to live out of, and easily organized. Footlocker trunks can be used as a tabletop, a sit-down bench, a step-ladder, and more! As with anything, some trunks are constructed better than others.
Originally named C&N Footlockers (after the owners Craig and Nancy), Everything Summer Camp got its start manufacturing these quality footlocker trunks.
Just as Everything Summer Camp is ever-growing and ever-evolving, so are their camp trunks. Most recently, they've added two new colors to their camp trunk collection: Mint and Coral.
Like a breath of minty-fresh air, the C&N Happy Camper in Mint is complimentary and absolutely breathtaking. Breathe in deep and take it in. Just as cool and refreshing as a piece of bedroom furniture as it is at summer camp, this cool Mint trunk is perfect for summer camp.
If it's a soothing shade, like that of the marine life under the sea, that is favored, then check out the Happy Camper in C&N's new Coral color. A neutral balance of pink and orange, Coral is a compromise that leaves everyone happy and content. Relax like these otherworldly creatures and go with the Coral color.
"These new colors look fantastic on our camp trunks. They're calm colors, but they still look exciting on a C&N Footlocker!" says Matt, Sales Director of Everything Summer Camp. Give a fresh, new look to a C&N Happy Camper with one of these cool, new colors and make camp a blast!
About Everything Summer Camp
Everything Summer Camp has been helping kids get ready for summer camp since 1987. Their wide selection of camping gear includes camp trunks and other camping supplies. Top selling items include water bottles, cot-sized bedding, rain jackets, insect repellent, iron on labels, and more. Known for their customer service and fast shipping Everything Summer Camp is recommended by more camps than any other camp outfitter.
Visit http://www.EverythingSummerCamp.com to learn more about camp footlockers, name labels, duffel bags, and camping supplies.