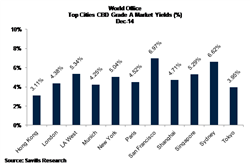 Core stabilised markets such as New York, San Francisco and Los Angeles provides returns in the mid 5% range.
New York, NY (PRWEB) February 09, 2015
Hong Kong and Tokyo have the lowest office property investment yields in the world according to ground breaking research published by leading property adviser Savills. In Savills World Office Yield Spectrum, published in conjunction with Deakin University, San Francisco and Sydney offer among the most attractive office investment yields in the world.
Australian coordinator of the publication and Savills National Head of Research Tony Crabb said, 'Globally, interest rates remain low and are anticipated to remain low for the foreseeable future. On a global scale Tokyo stands out as a market where inflationary income growth expectations defy the extremely low cost of debt whilst returns in Singapore look particularly attractive in the Asian region. Globally, commercial property yields in particular continue to look attractive.'
In bond markets 10 year yields closed out the year around 2 percent in the United States, 1.8 percent in the UK, 0.6 percent in Germany, 0.35 percent in Japan and 2.8 percent in Australia. When you look at the yields in core office markets around the world the spread is between 2 percent and up to 4 percent. These are very attractive returns in a low growth, low inflation investment climate.
According to Crabb, 'burgeoning amounts of sovereign debt coupled with impaired budgetary positions and an ageing population demanding more from governments is likely to keep interest rates low for years to come. As the world population ages, a great deal of retirement saving can be expected to chase yield. This, when combined with low interest rates, can be expected to keep downward pressure on income returns into the foreseeable future.'
In Australia, all markets look attractive on a global scale. Perth and Brisbane yields are higher because of the current commodity price cycle and the effects of the end of the mining investment boom. Melbourne and Sydney are tighter due to the low interest rate environment, population growth and expectation of capital appreciation as growing demand forces rents higher and incentives lower.
In Asia, the core markets of Hong Kong and Tokyo look expensive whilst Singapore looks to provide the best value. In the emerging markets, yields reflect the risks with Vietnam, Indonesia and the Philippines offering the highest returns. Core market value can be found in Seoul and Singapore.
Europe - characterized by France, Germany and the UK - has very stabilized core market office investment yields of between 3.5% and 4.5%. Given the extremely low interest rate environment in Europe it is hardly surprising these are the prevailing yields.
In the United States, the emerging economic recovery from the GFC, the end of Quantitative Easing and the prospect of interest rates rising see such a wide range of office investment yields. Core stabilized markets such as New York, San Francisco and Los Angeles provides returns in the mid 5% range. Move further afield to Dallas, Washington DC, Houston and San Diego and you can achieve yields in the 7% range.