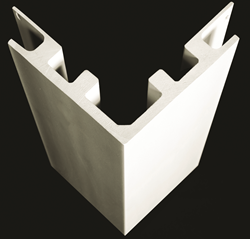 "The new hidden fastener Stealth HF saves time and improves appearance in lap siding construction, with zero maintenance," stated Rick Kapres, VERSATEX Vice President of Sales.
Pittsburgh, PA (PRWEB) February 10, 2015
The hidden-fastener Stealth HF Corner saves time and improves appearance in lap-siding construction, while providing the same zero-maintenance, weather-resistant properties that make all VERSATEX premium PVC trim the preferred material for residential construction.
Leading building-supply dealers across the country will stock the 1 x 6 (nominal), matte-finish component in 20-foot lengths beginning this January.
According to John Pace, President and CEO of Versatex Building Products, LLC, he and his team developed the Stealth HF Corner after visiting construction sites nationwide.
"Builders and renovators told us they were searching for a secure, easy-to-install system that would do away with time-consuming cosmetic work," he said today. "And they wanted a perfect match for the other VERSATEX components they depend on."
VERSATEX Vice President of Sales Rick Kapres added, "We were the first manufacturer in the market to introduce a one-piece corner to solve the problems of square, plumb assembly on-site, and eliminate seams and joints that can open up and trap dirt and grime."
The new product, he said, is an extension of the comprehensive VERSATEX architectural trim system, which already includes Stealth Trim cornerboards with preformed 3/4" edge pockets for tight, accurate installation. The Stealth HF Corner is compatible with most cedar, fiber-cement and vinyl siding.
Mr. Kapres invited contractors, distributors and lumberyard operators to learn more about cornerboard innovations from regional VERSATEX representatives, or by contacting him at 724-857-1111 or rkapres(at)versatex(dot)com.
About VERSATEX
Weather-resistant, long-lasting VERSATEX trim materials and systems are manufactured by Versatex Building Products, LLC (fka Wolfpac Technologies, Inc.), of Pittsburgh, Pa., where state-of-the-art facilities produce cellular PVC extrusion products such as VERSATEX trimboards, sheet, bead board, moldings and prefabricated corners; the innovative VERSATEX soffit system; and the new, dimensionally compatible VERSATEX Max nominal 2-by boards and sheet. Details are posted at http://www.versatex.com.