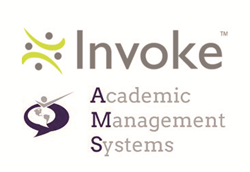 We are confident that by merging Invoke Solutions and AMS, we will be able to provide a unique advantage in a changing and fast paced competitive marketplace states Mr. Bennett.
Boston, MA (PRWEB) February 10, 2015
The merger of Invoke Solutions and Academic Management Systems (AMS) is effective immediately following months of due diligence by both companies. The new combination has been created to establish a technology and insights leader in the growing and global markets of market research and academia.
The new company, which will be led by Invoke President and CEO Basil Bennett, will generate immediate customer value including an accelerated deployment of innovative products and services. "In addition to creating an exciting opportunity for our company and our customers, we now have a powerful product portfolio that enables us to compete more effectively in higher education, market research and employee HR engagement".
Both companies will continue to operate independently, while sharing software development, engineering, back office resources and financial management. Invoke Solutions will continue to be headquartered in the Boston, MA area, while AMS will maintain its Buffalo, NY headquarters. The company will have satellite offices in NYC, Stamford, CT, Chicago, Kansas City area, Dallas, Seattle, San Francisco and Los Angeles.
A key synergy with the merger is shared technology innovation. The CTO, Iqbal Mutabanna, sees a singular opportunity to leverage the strengths and insights native to Invoke and AMS CoursEval™ products within a state-of-the-art enterprise platform. "Working with Chris Probst from AMS and his team, we will build on a modern Java-based technology stack with a scalable micro-server architecture and hybrid data stores. Both companies' customers will benefit from the versatility of this next-generation technology and improved user experience. CoursEval™ customers will have access to a comprehensive "Qual-Quant" tool set that includes real time analytics. Invoke customers will get a rich new stable of data management and DIY features for advanced methodologies."
Brian R. Hopewell, AMS Vice President of Sales, says that the team has been working toward re-architecting its platform. "Thanks to the new relationship with the agile development team from Invoke and the commitment from our joint ownership group at North Atlantic Capital, we're in a massively interesting position. CoursEval™ has always been good. When we're done, it'll be – as they say in Boston – wicked."
The company also announced that it has completed its first phase of hiring of engineering staff and is about to launch into the hiring of business group leaders and additional sales people. "We are confident that by merging Invoke Solutions and AMS, we will be able to provide a unique advantage in a changing and fast paced competitive marketplace", states Mr. Bennett.
About Invoke Solutions
Invoke Solutions, Inc. is a recognized leader in on-line market research and customer intelligence technology for Fortune 500 companies. Its patented software is considered the pioneer in real-time large-scale qualitative and quantitative market research.
About Academic Management Systems
Since 1997, Academic Management Systems Inc. has developed software to support teaching and learning in higher education. Its student-ratings-of-instruction system, CoursEval™ is used by 300 colleges, universities, and professional schools around the world.