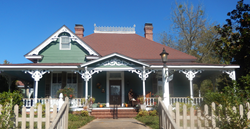 Making warm and happy memories
Hamilton, Georgia (PRWEB) February 10, 2015
Holly House of Hamilton, is an award winning Bed and Breakfast with six thematic guest rooms. Holly House is entering its third year of offering warm, homelike hospitality in the Presidential Pathways Region of Georgia. Located just 20 miles North of Columbus and 85 miles South of Atlanta, Holly House offers the perfect romantic get-away from the stresses of city life for this Valentine's Day weekend. A day and night with your partner in beautiful Harris County can renew your love for one another by providing time for relaxation and refocusing in the refreshing countryside found in this location.
FDR State Park and Callaway Gardens offer beautiful scenic trails for walking and enjoying nature. Holly House is also adjacent to a two mile walking trail located right behind the property.The Little White House offers an historic and informative outing. http://gastateparks.org/LittleWhiteHouse/ There are numerous restaurants and quaint shops within close proximity to Hamilton such as Pine Mt. and Warm Springs. The The Wild Animal Safari is another fun outing just 15 minutes from Holly House.
Spacious and inviting thematic rooms with private shower baths offer charming and unique accommodations featuring antique and vintage furnishings. Special amenities include a full five course breakfast featuring fresh fruit, juice, breakfast meat, egg dishes and homemade bakery goods served on china and crystal by candlelight. Also, for this weekend guests may enjoy delicious chocolate and strawberry desserts and sparkling cider. A guest kitchen is also filled with snacks and beverages and features homemade cookies.
Making warm and happy memories is the goal of a visit to Holly House of Hamilton Bed and Breakfast. Treat your loved one to a special romantic get away in a lovely historic home in a convenient location.