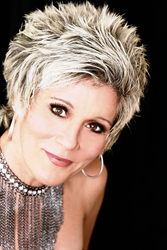 Indianapolis, IN (PRWEB) February 11, 2015
The Indianapolis Children's Choir (ICC) will perform two concerts with special guest and two-time Grammy Award winner Sylvia McNair on Sunday, March 22, at Hilbert Circle Theatre in Indianapolis, Ind.
The two concerts will feature the music of George Gershwin and Cole Porter, including popular songs such as "Summertime" and "Someone to Watch over Me." Voices of Youth will be at 7 p.m. and will feature the ICC's more advanced groups; Tapestry of Song will be at 3 p.m. and will highlight the ICC's younger singers and regional choirs. Sylvia McNair will perform at both concerts. Ms. McNair previously performed with the ICC in December of 2014 for the "Angels Sing" holiday broadcast on WTHR channel 13 in Indianapolis.
Advance tickets to each concert are $12 and can be purchased by going to icchoir.org. Tickets may also be purchased at the door for $15 if the concerts have not sold out.
About Sylvia McNair:
Two-time Grammy Award winner and regional Emmy Award winner Sylvia McNair lays claim to a three-decade career in the musical realms of opera, oratorio, cabaret and musical theater. Her journey has taken her from the Metropolitan Opera to the Salzburg Festival, from the New York Philharmonic to the Rainbow Room, from the Ravinia Festival to The Plaza, from the pages of the New York Times and The Wall Street Journal to the London Times and the cover of Cabaret Scenes. Ms. McNair has appeared as a soloist with many major opera company and symphony orchestras.
About Hilbert Circle Theatre:
The Circle Theatre opened in 1916 as one of the nation's first grand movie palaces. Through the efforts of the Indiana Symphony Society, it reopened on October 12, 1984 as the home of the Indianapolis Symphony Orchestra. It was generously endowed by Stephen and Tomisue Hilbert in December 1996 and renamed the Hilbert Circle Theatre. The theater is now home to the Indianapolis Symphony Orchestra.
About the ICC:
Currently in its 29th season, the Indianapolis Children's Choir has grown to become one of the largest children's choirs in the world. Founded by Artistic Director Henry Leck, the ICC serves over 3,000 central Indiana children from pre-school age through high school. The Indianapolis Children's Choir nurtures and inspires student achievement through quality music education and the pursuit of artistic excellence in choral music performance. To enroll a child, attend a concert, or make a financial donation, visit icchoir.org or call 317.940.9640.