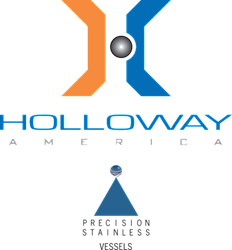 The DVC Vendor Night is a great opportunity for us to connect with pharmaceutical and other life sciences professionals.
Springfield, Mo. (PRWEB) February 10, 2015
The pressure vessel design and fabrication company HOLLOWAY AMERICA announced recently it will exhibit this evening at the ISPE Delaware Valley Chapter (DVC) Vendor Night 2015. The event, which will be held at Citizens Bank Park in Philadelphia, Pa., from 4 p.m. until 9 p.m., marks the 25th Annual DVC Exhibitors Night, as HOLLOWAY AMERICA Sales Engineer Stephen Lamb noted: "We've attended a number of DVC Exhibitor Nights over the years, but it's pretty exciting to be a part of the 25th anniversary of the event. While I didn't have the privilege of joining the DVC in the early years, I know it has grown tremendously since a handful of ISPE members first organized the chapter."
This year, the event organizers anticipate between 400 and 600 attendees, and they have arranged for the first 500 people to receive a special gift commemorating the evening. The ISPE DVC is providing complementary registration and transportation to accommodate people who are attending the ISA Food and Pharmaceutical Industry Division Symposium—also taking place in Philadelphia early this week. Additionally, anyone who has pre-registered for the DVC Vendor Night will enjoy free admission, and entry is just $10 for those who have not registered in advance. Many attendees will also win door prizes, which are scheduled for distribution throughout the event. The night will also be highlighted by free, behind-the-scenes tours of the ballpark as well complementary food and beverages.
The HOLLOWAY AMERICA Exhibit
The HOLLOWAY exhibit will be at Table 93, where Lamb will be available to discuss the company's pressure vessel design and fabrication services. "The DVC Vendor Night is a great opportunity for us to connect with pharmaceutical and other life sciences professionals. Not an ISPE event goes by that we don't hear people describe processes that HOLLOWAY could improve. The solution might involve a new WFI water storage tank to meet stricter sanitary standards. Or perhaps the company needs a custom-fabricated bioreactor that will perform processes safely and reliably in even the fastest-paced environment. Whatever the need proves to be, we can make a world of difference," said Lamb.
HOLLOWAY AMERICA Director of Marketing Randy Colwell added, "We meet a lot of attendees who simply need a dedicated resource to replace tank components that are either underperforming or have broken down and stopped processing altogether. We know just how costly downtime is for these companies. So we're committed to replacing parts nearly immediately. We carry thousands of components, and our certified fabricators can also perform retrofits and custom-make parts to meet OEM specifications. Most importantly, our central location in the Midwest lets us arrive on site anywhere in the U.S. within 24 hours."
About the ISPE Delaware Valley Chapter
Established during the 1980s to benefit ISPE members located in Pennsylvania, New Jersey, Delaware and Maryland, the DVC is the second ISPE chapter formed in North America. What began through the hard work and commitment of 25 charter members has continually grown into a thriving community of more than 1,600 ISPE members who gather for numerous programs each year.
For more information on pressure vessel design, custom fabrication and tank components, or for details on the 25th Annual ISPE DVC Vendor Night, contact HOLLOWAY AMERICA at 417.863.0077 or by email at info(at)HollowayAmerica(dot)com.