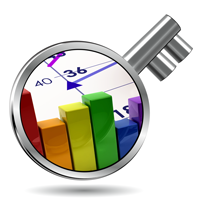 Customers tell us [they] needed [HSM Surveyor] prior to the October, 2015, EMV liability shift, since EMV processing increases demands on their HSMs.
(PRWEB) February 12, 2015
Hardware Security Modules (HSMs) offer the highest level of security services necessary for mission critical transaction processing within enterprises. These security services, such as the encryption and decryption of keys, are used to form the bedrock of enterprise data protection. Any enterprise with HSM's must be continuously aware of both the historical and current availability of their HSM estate. Continuous monitoring of HSM performance helps prevent costly interruptions to business enterprises and provides a valuable data source for analysis, problem diagnosis and capacity planning.
Prime Factors addresses these issues in announcing the release of HSM Surveyor, a unique application offering. For the first time, HSM administrators and users can monitor their HSM estate and get a comprehensive view of both individual HSM and pool performance.
"Our customers brought this need to our attention," Prime Factors' CEO Patrick Riley states. "Knowing our team's intimate familiarity with the complex HSM interfaces, they felt Prime Factors was the obvious choice for building these new, urgently needed capabilities. Customers tell us the capabilities are needed prior to the October, 2015, EMV liability shift, since EMV processing increases demands on their HSMs."
Hardware security modules are expensive components in data centers. If an HSM reaches a capacity limit without warning and the data center must acquire an additional appliance, the cost of acquiring an HSM can increase. For data centers that host pools of HSMs, having to abruptly redistribute workloads to other appliances in the pool risks introducing complications, degrading quality.
"An HSM used in the production and subsequent processing of payment cards can cost tens of thousands of dollars," says Prime Factors Product Manager, Dave Tushie. "No data center wants to suddenly request variance to budget to add another appliance. With HSM Surveyor, enterprises can now monitor the health and performance of HSMs through historical and real-time data visualization. Knowing the HSM capacity for each appliance in their estate, individually or by pools, is invaluable for performance monitoring and resource planning."
HSM Surveyor is immediately available to monitor activity of Thales eSecurity® payShield® 9000 HSMs, integral to payment card issuance and transaction processing. Prime Factors will expand the range of HSMs supported in subsequent releases. For more information, see http://www.primefactors.com/hsm-surveyor, contact the company at info(at)primefactors(dot)com, or by calling (888) 963-6358.
About Prime Factors, http://www.primefactors.com
Prime Factors has focused solely on the cryptographic needs of data centers for over thirty years. It creates solutions that make information security professionals' jobs easier while anticipating the market's next data security challenges. Prime Factors encryption and tokenization products reflect those decades of experience, ensuring that their cryptographic integrity is fully complemented by simplified integration interfaces that reduce development cost and time-to-market. Customers can align a solution to their specific data protection goals, address regulatory compliance, and implement in less time than alternatives.