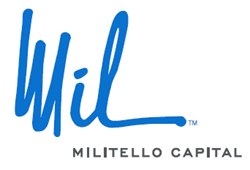 We're excited about closing the fund and the continued success of our portfolio companies,
Leesburg, VA (PRWEB) February 10, 2015
Militello Capital, a greater Washington, D.C. private equity investment firm, announces the final closing of its second early-stage technology fund, Militello Venture Partners II (MVP II). Support for the fund was led by registered investments advisers (RIAs) seeking access to vetted privately held investment opportunities on behalf of their high net worth clients.
Over the course of the last 32 months MVP II has been increasingly active and its portfolio companies have not disappointed with overall revenue growing 162 percent from Q4 2013 to Q4 2014. In support of this revenue growth, MVP II also reports its portfolio companies had an aggregate job growth of 58 percent between Q4 2013 and Q4 2014.
"We're excited about closing the fund and the continued success of our portfolio companies," said Bill Militello, CEO and Founder of Militello Capital. "Even more so we're encouraged by the strong appetite from the RIA marketplace to create strategic partnerships with venture capital and private equity firms, so together alongside clients they can invest in companies that are developing new technologies and creating employment opportunities."
Since its inception in 2012, MVP II has made investments in 36 early-stage technology companies and also made follow-on investments in a third of its portfolio. Some of the fund's more successful portfolio companies include Boston-based Fancred, which experienced 1000% user growth in 2014, as well as Washington, D.C.–based Social Tables and Distil Networks, and New York -based, ExecOnline and Hinge the red hot mobile dating app.
Several of the fund's portfolio companies received additional financing from some of the most respected names in venture investing, including Kleiner Perkins, Foundry, Bessemer Venture Partners, and Founder's Fund. The fund's portfolio companies also boast an impressive list of corporate customers including Gannett, Pfizer, Harvard Business School, Autotrader, Kaplan, Beckton Dickinson, Hyatt, Sony and the Baltimore Ravens.
About Militello Capital
Militello Capital is a Northern Virginia-based private equity investment manager working exclusively with registered investment advisers (RIAs) who aim to broaden their portfolio allocations to include entrepreneurs and real estate. Militello's investment philosophy and strategy are based on the principle that today's wealth is created in the real economy. The firm currently offers RIAs two distinct investment strategies that complement their existing portfolios: direct investments in income-producing commercial real estate and emerging technology venture capital.
The information contained herein should not be construed as personalized investment advice. Investing in venture capital companies involves some degree of risk and may not be suitable for all investors. Information presented herein is subject to change without notice and should not be considered as a solicitation to buy or sell any security. The companies highlighted above are not necessarily the highest performing investments in the fund, but are noted as purchases made to date. The reader should not assume that investments in the companies identified were or will be profitable.