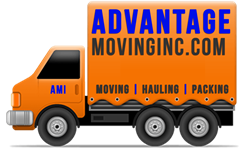 We go above and beyond to ensure all clients satisfaction. Our company owner will be onsite and treating your home as if it was our own.
(PRWEB) February 17, 2015
Advantage Moving, a family-owned company servicing the Bel Air area for more than a decade, has joined forces with Towson-based web marketing and development firm DAASN to create a new website and marketing effort for its full-service moving.
Advantage's complete range of services for family and commercial moves are now clearly explained and searchable at http://advantagemovinginc.com/.
For over a decade, Advantage Moving has been the top choice of many businesses and families in the Bel Air area. Advantage staff understand the anxiety of packing up belongings collected over many years – fragile china, personal papers, company files, or just precious mementos from family life or work. The company's goal is to make each move smooth, efficient, fast, and secure for clients.
Our new website will help clients understand and navigate all of our services:

Planning, scheduling and estimating moving costs
Packing materials and personalized packing by Advantage staff
Hauling and cleanup of old furniture, outdated documents and other items to be left behind
Timely, safe and secure delivery to a new office or home
"We are a family-run business, and we value our promises," said Heather Thompson, spokeswoman for Advantage Moving. "We have been the first choice of many, and we have been able to garner trust and reliability with our dedication."
For more information, please visit http://advantagemovinginc.com/