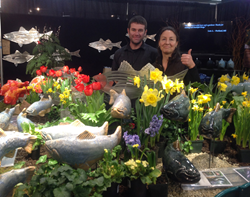 "The era of costly, fragile, ugly garden art in the Northwest is ending," Weiss asserts, "and the era of attainable, fluid, attractive garden art in the Northwest is dawning."
Seattle, Washington (PRWEB) February 11, 2015
Visitors to the five-day Northwest Flower & Garden Show, which opens Wednesday at the Washington State Convention Center, may see a garden sculpture showdown between local artist Dale Chihuly and his brash Northeast challenger, Tyson Weiss.
In this East Coast–West Coast competition, Weiss says Chihuly "makes primitive-looking glass sea life, while I make more highly evolved ceramic and stainless steel fish. Fish are graceful."
Weiss, who creates his distinctive and affordable "Fish in the Garden" sculptures in Falmouth, Maine (http://www.fishinthegarden.net), believes "art should be adaptable to people's lives. It should be accessible."
His life-size ceramic sockeye salmon and stainless steel steelhead salmon designs, for example, complement gardens rather than dominate them. Buyers participate in the creative process by arranging Weiss's fish, singly or in flowing schools, around their shrubs and flowers. The fish are designed to give gardens a sense of fluid movement, and they fit smoothly into gardens of any size. "And my prices don't put my sculptures out of reach for most people," he adds.
Weiss's Northwest Flower & Garden Show display will be at Booth 1016. "The era of costly, fragile, ugly garden art in the Northwest is ending," Weiss asserts, "and the era of attainable, fluid, attractive garden art in the Northwest is dawning."
For more information:
Tyson Weiss 207-329-6171 • tysonweiss(at)mac(dot)com • http://www.fishinthegarden.net