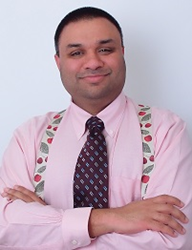 Cupid's arrow is a loaded weapon and it is up to you to make sure that you know who's pulling the bow.
New York City, New York (PRWEB) February 11, 2015
There are roughly 54 million single people in the United States and over 41 million of them have tried online dating. While some may enter this environment in order to take a chance on love and find a match, others utilize it as an opportunity to lure others for the purpose of performing scams, spying on employees, preying on our youth and many other crimes. As we approach Valentine's Day and singletons flock online looking for that last minute date for the day of romance, the tales of online deception and trickery will only rise.
Cyber civil rights advocate, author and public speaker, Raj Goel, CISSP, says "Online dating apps make notions of building connections, but do you really know who you are building a relationship with online? Users nowadays have access to tools and resources that make it easier to deceive another person. That 6'3'', 28 year old, blue-eyed, sweet yet strong guy who makes works as an attorney may seem perfect but behind the screen could actually be a 40 year old, balding, pudgy man who still lives at home with his mother and you'd never know it until you met in person."
"Even privacy settings don't always keep everything private, so you have to be careful what you choose to share online. Your likes, dislikes, location, quirks and idiosyncrasies can be used against you if accessed by the wrong person, turning an innocent shot at love into a nightmare. Cupid's arrow is a loaded weapon and it is up to you to make sure that you know who's pulling the bow," says Goel.
Here are a few ways to stay safe in love in the world of cyberspace.
1. Keep track of the sites and applications that you're using: Make a list of the sites that you are on so that you can ensure that when you are truly finished with them, you remember to delete your profile. Even if you're not logged onto a dating site or app, your information is still able to be viewed and accessed if it's not deleted.
2. Maintain a watchful eye on your web traffic: New dating sites pop onto the Internet regularly and not all of them are legitimate. Be mindful of any site that seems suspicious.
3. Have an open dialogue with your children: For parents of teens and tweens, it is important that you have a conversation with them about the emotional, reputational and legal dangers of social media and online dating apps, including sexting and Snapchatting.
This article was published in InfoSecurity Professional. Read more here.
# # #
About Raj
Author, entrepreneur, IT expert and public speaker, Raj Goel is globally known as the go-to man in cyber security and privacy law. He is committed to educating individuals and organizations about online safety and how to protect their most important assets – people and data. His expert advice helps individuals, companies and conglomerates navigate their way through the world's ever-changing technology and increasingly complex IT compliance laws. He often appears in the media and at conferences world-wide to educate the public on cyber-security and digital privacy, a subject he is passionate about.
For more information about Mr. Goel and his work, please visit http://www.RajGoel.com