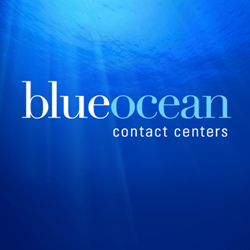 Our own experience with this live chat implementation has proved highly positive, and we're pleased about the opportunity to help our clients uncover this deeper level of customer service.
Halifax, Nova Scotia (PRWEB) February 10, 2015
Blue Ocean Contact Centers, a recognized leader in providing outsourced customer service solutions for global brands, has announced a new feature on their website. Live chat, supported by both recruiting specialists and new business development professionals, has been added to the company website. The chat feature offers an enhanced experience to both job seekers looking for support in the application process and to business professionals with questions about outsourced support solutions. Live chat is available from the hours of 9 a.m. to 6 p.m. Eastern Standard Time.
Since implementation, feedback has been overwhelmingly positive. "We are thrilled to announce this feature on the website," said Mike Hasler, vice president of Sales and Marketing at Blue Ocean Contact Centers. "Live chat is gaining real traction as a support channel in our industry. By embedding a chat solution for our own business, we are giving procurement professionals and C suite decision-makers with responsibility for customer support the chance to engage with us and experience the Blue Ocean difference in a way that is relevant to their needs. In addition, on the recruitment side, we have the opportunity to add value to job seekers while also assessing a candidate's ability to interact in this particular support channel. Through live chat, we can help a candidate through the application process, give them some insight into Blue Ocean's culture, set expectations, and simultaneously assess their written communication skills. It is simply a win-win scenario that makes total sense for our business."
Blue Ocean has done extensive research on IVR and automatic response, as a result the company's live chat solution is focused on the importance of placing empowered, capable, experienced individuals in the role of agent throughout the live chat model. Clear communication is essential. The chat helps foster a positive interaction for those interested in working with the company as well as those looking to outsource customer service.
"We have been seeing an increased demand for this feature among our client base," said Mike Hasler. "Many companies are adding outsourced live chat support to their customer service strategy because it provides a great first impression for those on the website. Our own experience with this live chat implementation has proved highly positive, and we're pleased about the opportunity to help our clients uncover this deeper level of customer service."
To learn more about live chat or experience it for yourself, please visit Blue Ocean's website.
About Blue Ocean
Blue Ocean is a contact center outsourcer providing customer service solutions for some of the world's best brands. We employ smart, capable people who deliver extraordinary service experiences in tech support, reservations and registrations, issue resolution, logistics support and customer service.
Our particular expertise is in providing high-quality contact center solutions for "mission-critical" customer service processes with complex support requirements. We play a key role in building brand loyalty that helps drive revenue for our clients.
We're experts at efficiency and productivity while delivering consistent quality in complex service scenarios. We excel at putting the right resources in the right place at the right time doing the right things and carefully measuring all aspects of our service.
Above all, we believe that collaboration, innovation, and customization are the foundation for effective, affordable, solutions that consistently deliver on your key metrics.