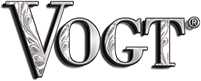 Using our experience in the designs and production within the Vogt tradition we are able to offer an affordable, trendy approach to these accessories
Denver, CO (PRWEB) February 11, 2015
Earlier this month, Vogt Silversmiths attended the Western and English Sales Association (WESA) that took place in Denver, Colorado. From January 15-20, the 93rd January Market provided the venue for vendors and producers of Western wear, decor, and memorabilia to showcase their new products for the season. Almost 8,000 buyer's organizations were in attendance, representing 1,200 product lines. Sellers from all over the world set up booths to allow retail stores to order the products they want to stock for the next several months.
Vogt Silversmiths launched nearly fifty new designs into their Bar-V Ranch by Vogt and Vogt Silversmiths product lines. The Bar V Ranch x VOGT collection, appearing in its second Denver Market features an affordable selection of silver-plated buckle sets, women's jewelry and men's accessories. Men's cross necklaces and bracelets, in a variety of copper and silver combinations and designs were at the forefront of the unveiling.
"We discovered within the last six months that there were very few offerings in Western designs in men's bracelets and bolo ties. Using our experience in the designs and production within the Vogt tradition we are able to offer an affordable, trendy approach to these accessories," said Casey Vogt of Vogt Silversmiths.
Vogt Silversmiths, deemed a leader within the market for their hand crafted, hand engraved sterling silver designs has incorporated genuine stones including turquoise, lapis, and amethyst into their offerings. Normally, Vogt Silversmiths releases two sets of new designs each year, so customers can expect another update in late summer or early fall.
WESA is a great venue for companies to connect with their clients, building upon relationships built through generations, as well as develop models to address an ever-changing marketplace.
"A lot has to do with fostering new business and building upon existing relationships," Casey Vogt explained. Vogt Silversmiths has evolved with the changing marketplace by embracing internet marketing and advertising, educating their customers on the power of social media, networking and an online presence.
About Vogt Silversmiths
Vogt Silversmiths sells belt buckles, men's accessories, western jewelry, leather items and more. Many of their pieces are handmade and hand engraved, and Vogt Silversmiths purchases are protected by a lifetime guarantee. To learn more about their products, visit vogtsilversmiths.com