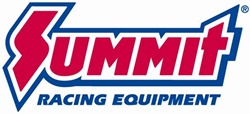 Tallmadge, OH (PRWEB) February 11, 2015
Performance enthusiasts can build more horsepower, fit a GM LS engine to a vintage automatic transmission, and improve the appearance of their shifters with these new products now available at Summit Racing.
Kooks Long Tube Headers
Long tube headers use the engine's exhaust pulses to pull exhaust gas from the cylinder and optimize scavenging. Kooks long tube headers are made from mandrel-bent T-304 stainless steel or 18 gauge steel. They have primary tubes tuned to specific engine and vehicle combinations to maximize breathing and horsepower.
Trick Flow LS Flexplate Spacer
The Trick Flow LS Flexplate Spacer is designed to mate an LS V8 with older GM Turbo 350/400, 700R4, and other pre-1998 automatic transmission. The steel spacer properly positions the flexplate and supports the converter snout. Grade 8 bolts are included. The spacer kit is designed for use with GM flat-style or dished flexplates.
Speed Dawg Shift Knobs
Speed Dawg Shifter Knobs are made in the USA from high impact polymer resin, and most come with 3/8"-16 and 1/2"-20 threaded brass adapters and a jam nut. Summit Racing carries many styles of Speed Dawg Shift Knobs.
Summit Racing Equipment
SummitRacing.com
1-800-230-3030