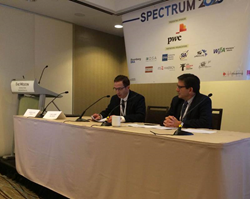 ... a vision for 5G ... faster and operating over an enhanced wireless ecosystem which includes millimeter wave technology
(PRWEB) February 09, 2015
LBA Group, Inc. announced that its Chief Technical Officer, Dr. Chris Horne, PE along with Google's Spectrum Engineering Lead, Dr. Andrew Clegg gave a presentation on "5G and Spectrum" at the recent Spectrum 2025 Conference in Washington, D.C. The event brought together leaders from a number of sectors, including technology, communications, and government.
Dr. Horne and Dr. Clegg presented a vision for 5G including more of the same mobile network architecture, but certainly faster and operating over an enhanced wireless ecosystem which includes millimeter wave technology. They touched on various regulatory principles, operational issues, and spectrum considerations.
Spectrum 2025 was designed to help start the dialogue about the shape of the wireless industry in 2015 and how spectrum sharing platforms will change the communications industry. Dr. Horne was among 20 featured and keynote speakers at the conference. Regulators, policy makers, spectrum managers, network planners, and wireless researchers were among those attending.
LBA provides services in the management and application of radio frequency energy, including risk management and interference remediation. For more information, contact Chris Horne, PhD, PE at: chris.horne(at)lbagroup.com or 252-757-0279.
About LBA Group, Inc.
LBA Group, Inc. has over 50 years of progressive innovative experience in providing technology and risk management for industrial and telecommunications infrastructure assets. The company is comprised of LBA University, Inc., providing on-site and online professional training; LBA Technology, Inc., a leading source and integrator of radio frequency systems, lightning protection, and EMC equipment for broadcast, industrial, and government users worldwide; and the professional technical consultancy, Lawrence Behr Associates, Inc. The companies are based in Greenville, N.C., USA.