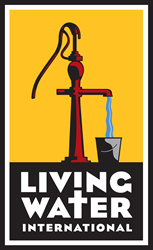 Houston, Texas (PRWEB) February 10, 2015
Living Water International (http://www.water.cc) is bringing new, real-time monitoring technology to community leaders in Rwanda as part of a large-scale water sustainability program. The 501(c)(3) organization is using technology developed by Portland State University and SweetSense, Inc., which uses specialized water pump sensors and cell phone data to expedite water pump maintenance. Nearly 200 of the sensors have been installed on rural hand pumps to date. Living Water is the first organization to use the technology at this scale. The pilot program in Rwanda is part of Living Water's work in 23 countries and its mission to provide water, for life, to the 748 million people who lack access to improved water.
Since 2007, Living Water International has worked alongside the Government of Rwanda to equip and train communities to drill and maintain clean water hand pumps. In 2014, Living Water, Portland State University and SweetSense Inc. introduced the sensors as a way to improve maintenance response and anticipate well repairs before they escalate. The sensors utilize the country's 95-percent rate of cell phone coverage to send information about pump performance and any needed repairs to Living Water's local maintenance teams, which are then dispatched to maintain water quality and flow in the community.
"Currently, hand pump check-ins and maintenance is a full-time job," said Moses Muendo Mutie, Project Coordinator for Living Water Rwanda. "We are excited to be the first to use this new technology, which helps us repair pumps before they break down and lets us share information quickly and easily between community and government maintenance teams."
As part of its mission to bring clean water for life, Living Water partners with organizations like SweetSense Inc., the leader in low-cost remote sensors specifically designed for the global development sector. Living Water, Portland State and SweetSense Inc. are committed to training community managers to use these sensors for proactive pump repairs and cross-organization transparency.
"Decades of experience show that community ownership and government involvement are crucial to sustainable water solutions," said Mike Mantel, president and CEO of Living Water International. "We are eager to see how open communication – made possible with tools like the SweetSense sensors – increases the sustainability of our water projects in Rwanda."
As the first implementing organization to deploy the SweetSense sensors on hand pumps, Living Water will work with Portland State and SweetSense to evaluate the technology for potential use across Living Water's 15,471 water projects worldwide. This project was funded by the GSM Association with support from the UK Department for International Development.
About Living Water International
With more than two decades of experience as a faith-based 501(c)(3), Living Water International (http://www.water.cc) exists to demonstrate the love of God by helping communities acquire desperately-needed clean water through the implementation of participatory, community-based water, sanitation and hygiene solutions in 23 developing countries across Central and South America, Africa and India. The organization has completed over 15,400 water projects as part of their ongoing commitment to provide water, for life, in Jesus' name. Living Water's end goal is to see holistic behavior change by supporting the local church and equipping local people to serve their own communities. For more information visit http://www.water.cc and engage on Twitter @livingwater or Facebook.com/LivingWaterInternational.
About SweetSense Inc.
SweetSense Inc. (http://www.sweetsensors.com) provides low-cost remote monitoring solutions for water, energy, and infrastructure projects in the global development setting to reduce client operating costs, improve technical performance, and increase overall effectiveness. With hundreds of sensor units deployed in 12 countries, the SWEETSense technology is the only robust fully-integrated, compact, low-powered, high resolution data acquisition system on the market specifically targeting the $40 billion annual global development market. SweetSense is used on applications including water pumps, water filters, cookstoves, and latrines, with cellular based reporting to http://www.sweetdata.biz where user and performance data is analyzed and graphed online in near-real time. The social enterprise spun out of the Portland State University Sustainable Water Energy & Environmental Technologies (SWEET) Lab.