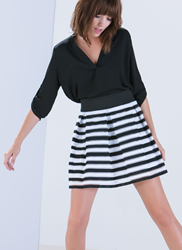 Los Angeles, Cali. (PRWEB) February 11, 2015
Online retailer GoJane is known for offering affordable, trendy clothing for stylish young women, and its revamped sale section now includes a hand-picked collection of drastically reduced prices on many of the site's most popular items. With the launch of GoJane's new "Shop Sale by Price" feature, shoppers will now be able to browse the sale section by price in order to stay on budget and save a great deal over similar-yet-more-expensive shopping sites.
By using the convenient and user-friendly sliding bar in the top right corner of GoJane's sale page, shoppers can adjust the results to include only items that fit into their price range and that start at under $5.00. Shoppers can simply slide the bar to the highest amount that they are willing to pay for a particular item, and the resulting sale items will not exceed that specific price. Likewise, shoppers who are searching for higher quality items can also use the price bar to filter out cheaper items and browse only items at more expensive price points. This new feature is especially helpful for those who are on a budget for special formal occasions like prom or homecoming.
GoJane's sale section includes a variety of different items from all of the site's various sections, including clothing, formal dresses, shoes and accessories. These items are often leftover from previous seasons or overstock of the site's popular items. In addition to shopping the sale section by price, GoJane also offers shoppers the option to filter results by color, size or newness.
GoJane is an online retailer of fashion-forward apparel for progressive young women. The website offers all of the latest trends in clothing and accessories for a fraction of the cost of designer brands. GoJane's helpful customer service team is available five days a week, and their 30-day return policy makes finding the right size fast and easy.