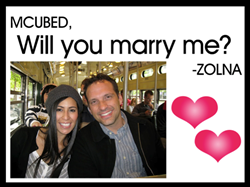 Buzztime brings the best in interactive trivia, card & sports games to bars & restaurants across US & Canada.
Carlsbad, CA (PRWEB) February 10, 2015
Love is in the air. Back in December 2013, Mike Zolna, a longtime dedicated player, contacted Buzztime via Facebook for help with a special request. Mike and his girlfriend, Monica, were regulars at the Native New Yorker Tucson where they had met playing Buzztime trivia and now, Mike wanted to propose to Monica via a special message on the Buzztime system.
Buzztime created a special banner, and Mike popped the question on December 23, 2013. During a regular round of Buzztime trivia, an out-of-the-ordinary message flashed across the screen, with a photo of the couple: "MCubed, Will you marry me? – Zolna." The message referenced the Buzztime usernames of the couple, the monikers by which they first knew each other before falling in love. Friends and family were on hand to witness the tear-jerking event, with coordination by the Native staff.
The wedding took place on October 24, 2014, and to help the happy couple celebrate, Buzztime and The Native New Yorker Tuscon organized a special quiz night in their honor. The event on December 11, 2014 was a great success and included a "Newlywed Game", other romantic-themed quizzes and gift card prizes.
Congratulations to Mike and Monica on the biggest day of their lives, all starting in a Buzztime trivia location! Bringing people together from all walks of life that wouldn't normally interact is just another benefit of Buzztime that can't be expressed on a balance or a spreadsheet. Buzztime would like to express how grateful we are in playing a small part in the spark that lit the fire of this fairytale modern romance.
About Buzztime:
NTN Buzztime, Inc. (NYSE MKT: NTN) is a leading bar and restaurant social entertainment and integrated marketing platform. Trusted by bars and restaurants in North America since 1985, Buzztime integrates trivia, card and sports games with in- and out-of-venue messaging and communication tools. With over 6 million player registrations on the Buzztime platform and over 60 million games played each year, Buzztime players spread the word and invite friends and family to their favorite Buzztime locations to enjoy evenings of fun and competition. With Buzztime entertainment and marketing solutions, bars and restaurants can turn casual visitors into regulars, and give patrons a reason to stay longer. For the most up-to-date information on NTN Buzztime, please visit http://www.buzztime.com or follow us on Facebook or Twitter @buzztime.