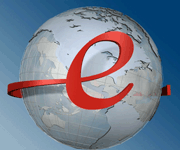 Germantown, WI (PRWEB) February 10, 2015
Ellsworth Adhesives, a global distributor of adhesives, specialty chemicals and dispensing equipment, is pleased to announce that they will be exhibiting at Expo Lighting America at Centro Banamex Convention and Exhibition Center in Mexico City, Mexico on February 25-27, 2015.
Ellsworth Adhesives will be displaying the latest technology of adhesives, sealants, lubricants, coatings, and dispensing equipment for the lighting industry in Booth 953.
Expo Lighting America is an annual lighting industry event held each year in Mexico City, Mexico. The expo is an assembly of manufacturers showcasing lighting components, accessories, and solutions. The event features workshops and a conference with keynote speakers sharing their expertise on lighting, technology, and current trends.
Jay Richardson, Director of Sales, commented, "Following our success at other lighting industry events, it was an easy decision to participate in Expo Lighting America this year. Our main goal for the exhibition will be to communicate our ability to provide a complete adhesive solution."
Ellsworth Adhesives offers the world's most comprehensive selection of products and services; and has more than 50 Engineered Sales Representatives in North America and more than 150 Engineered Sales Representatives globally. With their many shipping locations, they are able to minimize shipping costs and lead-times when shipping product to local plants. The Ellsworth Adhesives Global Advantage is extended with their understanding of import/export laws and regulations, ability to track shipments with appointed freight forwarders, and the capacity to clear customs quickly and in advance.
For more information on Ellsworth Adhesives, visit http://www.ellsworth.com or call 1.800.888.0698.
About Ellsworth Adhesives
Ellsworth Adhesives is a distributor of adhesive products and equipment. Ellsworth Adhesives is a value added supplier of adhesives, sealants, coatings, encapsulants, tapes, releases and lubricants from leading international manufacturers including 3M, Bostik, Dow Corning, Dymax, Emerson & Cuming, Fisnar, Henkel Loctite, Humiseal, Lord, Permabond, Sulzer, Techcon and many others and offers the most comprehensive level of technical expertise available. Ellsworth Adhesives operates sales offices and warehouses in the United States, Canada, Mexico, United Kingdom, France, Spain, Germany, Sweden, Denmark, Brazil, Australia, China, Malaysia, India, Vietnam, and Thailand. Ellsworth Adhesives can be contacted directly at 1-800-888-0698 or by visiting http://www.ellsworth.com.