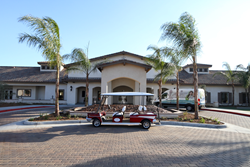 (100%) of its six Continental Medical Plaza EB-5 Investors received their I-526 USCIS petition approvals.
Murrieta Ca (PRWEB) February 10, 2015
According to CDN, The development is anchored by the Plaza's primary tenants, RadNet, a national diagnostic and imaging center, and the regional headquarters for Visiting Nurses Association of California, a premier home health services company. The plaza also houses the headquarters of Continental East Development Inc. (CED) and USA Continental Regional Center. Market valuation of the now-completed Medical Plaza property exceeds US$11 Million.
Earlier this month of January 2015, USACRC received its first I-526 approvals for its inaugural planned senior community, Renaissance Village Rancho Belago, located in Moreno Valley, California. Renaissance Villages is the Inland's Empire's newest Senior Living Community. Assisted Living and Memory Care services offered include comprehensive wellness, physical and dietary programs all of which together are envisioned to stimulate mind, body and spirit.
Rancho Belago is the first of three (3) planned Renaissance Village senior communities to be located in Moreno Valley, Murrieta, and Indio, California. Each of the three Renaissance Village communities is being developed by Continental East Development. CED is a real estate development company with international resources, which was launched in 2009 to take advantage of distressed properties in the California real estate market and acquire commercial as well as large residential properties with significant value-added appreciation opportunities.
Renaissance Village Rancho Belago is a licensed 120-bed Assisted and Memory Care development. The project's EB-5 investment is now fully subscribed. Rancho Belago officially opened in late October 2014, and already has 24 residents at the date of this letter. Market valuation stabilized is foretasted to exceed US$20 Million. Leasing is ahead of schedule, and is performing to budget.
For More information Call
Tyler DuBusky
CDN News
951-600-8600
Or Visit usacontinentalrc dot com