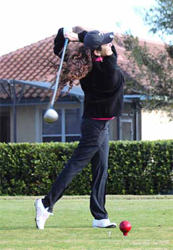 It's my business to protect my customers. I just had no idea when I started this business that my company would assist thousands of subcontractors and suppliers securing billions of dollars every year!"
Fort Lauderdale, Fl. (PRWEB) February 22, 2015
Ariela Wagner is no stranger to golf. That is why it was not a surprise when she won this year's long drive competition at Bonn-J Contracting Charity Invitational, a charity event sponsored by Florida Transportation Builders Association. This year, the charity event benefits the FTBA Scholarship Fund (80%) and the Winter Park Day Nursery (20%).
Golf has played a significant role in Ariela's life throughout childhood. Looking to cultivate a golfing partner, her father put clubs in her hands at the age of 4. When she was a senior in high school, her medal winning performance led her team, the Scots, to victory against the undefeated Buccaneers, who had never lost a game in their seven years of existence. "I call her my lioness on the course," explained high school golf coach Dotsy Fogleman, "She attacks every hole.'' Ariela went on to receive a partial golf scholarship to attend the University of Nevada. After college she won the Boca Raton City Golf Championship both years she played in 2008 and 2009, shooting a 78 and 76. On record her longest drive was 298 yards!
"The secret to a powerful long drive is simple," says Ariela. "Your attention needs to be focused. People speaking in the back of your golf swing can't distract you. Ironically, it's exactly the same with business."
In 2006, Ariela embarked upon a new business venture in the construction industry, which she started out of her apartment. That business would eventually flourish into a nationally recognized Online Construction Documents service that affords its customers the legal right to file a construction lien if they don't get paid. "It doesn't matter what anybody says along the way," Ariela explains. "Focus on your goal and don't be discouraged or distracted by the chatter coming from those who are watching your game."
SunRay Construction Solutions is one of the first National Online Construction Document Services in the State of Florida. When asked why she decided to pursue this particular field, she explained, "It's a fascinating business model. When we send out that Preliminary Notice, everyone on the project knows that, 'hey, our customer is performing some type of work and they deserve to get paid!' It's my business to protect my customers. I just had no idea when I started this business that my company would assist thousands of subcontractors and suppliers securing billions of dollars every year!"
Since the inception of SunRay Construction Solutions, her focus hasn't changed. She wants to provide the most extraordinary customer service and support possible. "I want each customer to feel like family despite the fact that we have thousands of them," says Ariela. No matter if SunRay's customers are large national accounts like ABC Supply or small operations, they are all guaranteed individual high quality customer care and attention. That, coupled with a state-of-the-art online construction document service, is the driving factor behind her great success in this industry.
If you would like to learn more about SunRay Construction Solutions, or Ariela Wagner, please visit http://www.SunRayNotice.com. or call 877.564.4404.