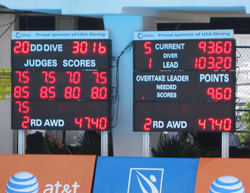 USA Diving appreciates the loyal partnership of Colorado Time Systems
Loveland, CO (PRWEB) February 11, 2015
As the "Official Scoring and Display System" of USA Diving, Colorado Time Systems will provide scoring and display equipment and technical support for USA Diving's major championship events over the next four years including: the USA Diving Synchronized National Championships, FINA/USA Diving Grand Prix, AT&T USA Diving National Championships, and the FINA Puerto Rico Grand Prix in alliance with USA Diving.
"USA Diving appreciates the loyal partnership of Colorado Time Systems," said Linda Paul, USA Diving President & CEO. "We look forward to another four years working together for the success of these elite events."
"Our partnership with USA Diving is a wonderful testimony to the trust in our diving equipment and professional staff," said Anita Sayed, PlayCore Senior Vice President and Colorado Time Systems' General Manager. " We look forward to the continued success of USA Diving."