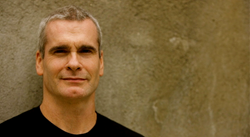 LOS ANGELES, CA (PRWEB) February 10, 2015
Multi-dimensional and occasionally controversial musician/activist Henry Rollins will deliver the keynote address to the Woodbury University Class of 2015 during commencement ceremonies scheduled for May 9, 2015, the university announced today.
Rollins is perhaps best-known as a vocalist with the legendary 1980s punk rock band, Black Flag. Subsequently, he has distinguished himself as a spoken-word artist, television and movie actor (Bad Boys II, Sons of Anarchy), emcee of television's 10 Things You Don't Know About on the H2 network, radio host and columnist with the L.A. Weekly. More recently, he was the voice of the killer in the movie In the House of Flies and was signed to star in a miniseries spin-off of He Never Died.
In February 2014, Rollins received the prestigious Ray Bradbury Creativity Award from Woodbury University's Friends of the Library. The award honors individuals whose contributions embody the creative spark and social conscience that characterized the late author's work. Previous recipients include Kirk Douglas, Malcolm McDowell, Burt Reynolds, Jody Greenwald, Roy E. Disney, F. Murray Abraham and, in 1994, Bradbury.
"I am honored to be the commencement speaker for Woodbury University's 2015 graduating class -- it's going to be a great day," said Rollins. "The students have put a lot of hours and energy to get to this moment, and I am excited that I will be there with them. This is a day that you remember for the rest of your life, a true starting point that took years to realize. For this graduating class, their future truly starts on this day. I can't help but feel overwhelmed with optimism and expectation for them."
"In all that he does, Henry Rollins reflects the four pillars that frame a Woodbury education: design thinking, which encourages creativity without boundaries; entrepreneurship; transdisciplinarity and civic engagement," said Woodbury University President Luis Maria R. Calingo, Ph.D. "We are delighted that he has accepted our invitation to address Woodbury University's Class of 2015 as commencement speaker."
About Woodbury University
Founded in 1884, Woodbury University is one of the oldest institutions of higher education in Southern California. It offers bachelor's degrees from the School of Architecture, School of Business, School of Media, Culture & Design, and College of Transdisciplinarity, along with a Master of Arts in Media for Social Justice, Master of Architecture (MArch), Master of Interior Architecture (MIA), Master of Science in Architecture (MSArch), and Master of Leadership. The San Diego campus offers Bachelor of Architecture and Master of Architecture degrees, as well as an MSArch degree with concentrations in Real Estate Development and Landscape + Urbanism. Woodbury ranks 15th among the nation's "25 Colleges That Add the Most Value," according to Money Magazine. Visit http://www.woodbury.edu for more information.