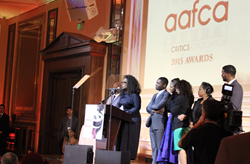 It is an honor to have a person of Oprah Winfrey's notoriety and status among our esteemed guests.
Los Angeles, CA (PRWEB) February 11, 2015
Taglyan Complex was honored to welcome the African American Film Critics Association (AAFCA) Awards on February 4th, 2015. Many of the film industry's most celebrated actors, producers, and directors attended the event; some of the most notable audience members were David Oyelowo, who accepted the Best Actor award for his portrayal of Martin Luther King Jr. in the film "Selma," Tyler Perry, who shared the Best Supporting Actor award with J.K. Simmons, and Oprah Winfrey, who received the Best Picture award with Ava DuVernay for directing and producing "Selma," respectively.
"We are no stranger to celebrities, film stars, and prominent political figures at Taglyan," said Gary Taglyan, Executive Director. "Still, it is an honor to have a person of Oprah Winfrey's notoriety and status among our esteemed guests. Her reputation, what she does for the community, her power as an influencer and as a force for good; she's truly one of the most important social figures in the United States today, if not in the world. We consider it a privilege that she – as well as all the other talented actors, directors, and producers at the AAFCA Awards – gave Taglyan Complex the opportunity to host such a monumental event once again."
In addition to the 13 film-related categories, The AAFCA also presented Los Angeles Film Festival Director Stephanie Allain with the Legacy Award, producer Debra Martin Chase with the Ashley Boone Award, entertainment writer Susan King of the LA Times with the Roger Ebert Award, and President of the Academy of Motion Picture Arts & Sciences Cheryl Boone Isaacs, Universal Pictures Chair Donna Langley, and The Black List founder Franklin Leonard with Special Achievement Awards.
As an organization that strives to be at the forefront of positive social change, both locally and nationally, Taglyan Complex is proud to support the AAFCA's mission of recognizing films that focus on the African American experience. According to AAFCA co-founder Gil Robertson, the association was created in response to what he viewed as a lack of media attention and recognition for African American films, actors, directors, and producers; by subverting the traditional, often-biased traditional awards show circuit, the AAFCA is able to create a positive and uplifting community for African American actors and filmmakers.
Taglyan Complex provides a glamorous setting for some of Los Angeles' most important celebrations, events, and fundraisers, and also works to better the community through independent philanthropic endeavors and by sponsoring both local and national charitable organizations.
###
For more information, please contact:
Gary Taglyan
Executive Director
323-978-0005
info(at)taglyancomplex(dot)com