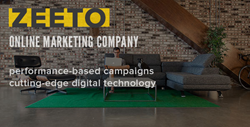 The addition of Nicholas and some of the new technology we're close to launching is an exciting time for us.
San Diego, CA (PRWEB) February 11, 2015
In a move that illustrates a push to position itself as a leader in the technology sector, Zeeto has hired Bright.com Co-Founder, Nicholas Doucette as the company's VP of Technology. Bright gained notoriety as a highly successful job search site and was recently acquired by LinkedIn in 2014 for a price tag of $120 million.
In 2011, Doucette joined Bright as one of four co-founders. He focused on building out their technology, using data science to create what he describes as a "FICO" score between a resume and a job description. The technology looks at features in a resume to match the applicant with the job most accurately aligned with their characteristics. Doucette led product and engineering teams that designed and built a spidering platform for job postings, providing Bright with over 1.5 million direct to employer job listings. His work contributed to Bright becoming the nation's fourth largest job search site in just three years.
"I love building things," said Doucette. "Zeeto reminds me a lot of what we had a Bright. Great culture, a desire to innovate – I'm excited to be part of the team." Zeeto and Doucette are not wasting any time and plan to go live with new properties in the coming months. The game plan looks to capitalize on new verticals in the lead generation space, while implementing in house proprietary technology that will streamline the lead gen process. With their flagship properties Samples.com and GetItFree.us, Zeeto is already a national leader in the coupons, deals and free samples space.
Doucette will lead the Optimization team, Business Intelligence team and Developers. Together they look to eclipse Zeeto's number of 50+ million leads generated in 2014. "The addition of Nicholas and some of the new technology we're close to launching is an exciting time for us. Nicholas brings with him such great experience and we can't wait to tap into that knowledge," said Zeeto CEO, Stephan Goss.
About Zeeto:
Zeeto is a technology company that specializes in generating high ROI leads for clients across all verticals. With over 50 million leads generated in 2014, Zeeto has become a powerhouse in the performance based online marketing industry. Our proprietary cutting edge technology uses custom in-house analytics and complex optimization algorithms to create a dynamic user experience that delivers the highest quality leads for online marketers, agencies and brands.
Recognized as one of the Top 5 Places to Work in San Diego, we have some of the most creative minds and talented people in the industry.