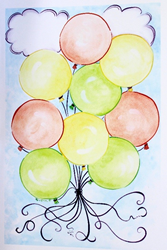 KEE Kreations reveals new print.
Sacramento,PA (PRWEB) February 11, 2015
Many times hospitals restrict patients from receiving flowers and mylar/latex balloons for the patients' safety. Smiles and a comforting feeling is the emotion the patient will experience when a "Party Balloons" interactive art print is carried into his/her room. The interactive art print will overflow with get well wishes signed by family, friends, coworkers, club members or religious group. No other 'get well' gifts can replace a visual sign of love and support from those who care. Why spend money for individual cards when one large KEE Kreations' "Party Balloons" print, filled with get well soon quotes, can be hung in the patient's room like a personalized, heart-felt painting?
Hang the poster where additional visitors and staff members can also sign, adding to the encouragement and healing support. Nothing says "Get Well Soon" like a KEE Kreations' signature poster. The brightly colored prints will illuminate the most difficult of days when someone is in the hospital, nursing home, or rehabilitation center.
Also, the "Party Balloons" interactive art print is wonderful to use as a welcome home gift for a new baby. Parents and grandparents can write meaningful words specifically for the new addition to the family. Add signatures and well wishes from siblings, cousins, aunts, uncles, and friends. To complete the poster write, in the "cloud" spaces, the infants name, birthdate, and any other information desired, such as pounds, length and maybe the words "Love Surrounds…". Hang the poster in the child's room as a reminder of special people in their life.
KEE Kreations is known for creating memorable and accessible art that has many uses for a huge variety of occasions. This art isn't complete until it is written on. KEE Kreations designed the "Party Balloons" print as a creative way to show concern, love and support as a Get Well Soon gift. This print is also used as a birthday party signature poster and activity. This 12"X18" copy of an original watercolor print by artist Karen Erdman has two Party Balloon choices, a 9 or 15 balloon print.
For more information about "Party Balloons" prints, email Karen at Karen(at)keekreations(dot)com or visit http://www.keekreations.com
Company Contact
Karen Erdman
karen(at)keekreations(dot)com
570.682.8402