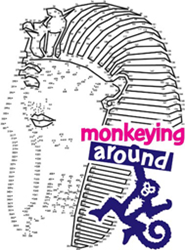 We earn the title of Greatest Dot to Dot series because we constantly challenge ourselves to create the best imaginable puzzles for everyone
Rochester, NY (PRWEB) February 10, 2015
Connect the dot puzzle publisher, Monkeying Around, is proud to announce they will be exhibiting their books at the American International Toy Fair in New York City at Booth 5624 from February 14-17, 2015. Monkeying Around will be featuring their latest Greatest Dot-to-Dot Adventure – Book 2 to thousands of toy enthusiasts at the largest and most important toy and youth product trade show in the Western Hemisphere. Discover what the Adventure Book holds by "connecting" the missing puzzle pieces to unearth the secrets and bring a mysterious gift together.
"We are very excited to be a part of the largest toy trade show for the 13th year in a row," says David Kalvitis, creator of the Greatest Dot-to-Dot puzzles and founder of Monkeying Around. "Being able to connect with retailers from around the world truly allows us to bring our exciting array of puzzles to kids everywhere."
The 112th annual American International Toy Fair is the largest toy and youth product marketplace, bringing together more than 1,100 exhibiting manufacturers, distributors, importers and sales agents from around the world to showcase their toy and entertainment products. This year, 10,000+ forward-thinking and fast-acting retailers from more than 100 countries will be on the lookout for products that will attract the attention of kids and families.
The Greatest Dot-to-Dot Adventure – Book 2 is full of the most complex and artistic activity puzzles to date. This new dot-to-dot book continues following a guide, an imaginative young boy, on his search for the missing pieces of a mysterious gift. Together, visitors will navigate challenging puzzles and unearth secret clues to discover new species of dots and spectacular views. The Adventure Book contains two triple page foldouts and one jaw-dropping four-page foldout with over 2,100 dots!
"We earn the title of Greatest Dot to Dot series because we constantly challenge ourselves to create the best imaginable puzzles for everyone," says Kalvitis. "That's why each book is better than the last."
For more information please visit http://www.monkeyingaround.com/
About Monkeying Around
Dot -to-dot publisher, Monkeying Around, was founded in 2000 by puzzle creator David Kalvitis. Kalvitis is a lifelong puzzle and game fan, has a Fine Arts degree from Syracuse University and previously operated a graphic design business in Upstate NY for 14 years. Since 2000, Monkeying Around has been dedicated to offering innovative dot-to-dot products that will delight and entertain children and adults of all ages. Monkeying Around produces "The Greatest Dot-to-Dot Books in the World," a challenging collection of unique dot-to-dot surprises and variations. The company also publishes "The Greatest Newspaper Dot-to-Dot Puzzles," pocket and travel sized collections of weekly syndicated puzzles, in the pages of USA newspapers. In 2007, the first of four "Greatest Dot-to-Dot Super Challenge" books was introduced. David Kalvitis is currently working on the third Greatest Dot-to-Dot Adventure Book.