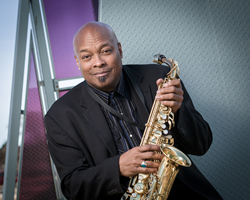 Horace brings his wealth of live concert, touring and educational expertise to this new role, and we are confident that these professional experiences will influence and inspire SFUAD music students.
Santa Fe, NM (PRWEB) February 09, 2015
Horace Alexander Young, a jazz musician and former educator at Texas Southern University, has joined Santa Fe University of Art and Design (SFUAD) as chair of the university's Contemporary Music Department. Dr. Steven Paxton, who has chaired the department since 2003, will be continuing as a full-time faculty member, concentrating on choral music, composition and music theory.
"We were extremely fortunate to find Horace during our search process, and we know that under his leadership our unique program will continue to grow in size, quality and breadth," said Paxton.
In Young's role at Texas Southern University, first as visiting associate professor of Jazz Studies and later as interim director of Jazz Studies, he conducted the award-winning Jazz Experience Big Band and served as the musical director of the Joe Sample Jazz Orchestra.
"It was inspiring to watch such a great artist of such overwhelming popularity give so much of the last two years of his life to the betterment of the future of young jazz musicians," said Young, speaking of the late Joe Sample. "A lot of what I learned from him has shaped the way I am working with students at SFUAD. I am encouraging them to pursue their own voice and originality, with an understanding of where they stand in the timeline of the tradition and the art form."
In addition to his time spent at Texas Southern, Young has also taught on the faculty of Washington State University, Rutgers University, California State University at Sonoma (Sonoma State), the High School for the Performing and Visual Arts in Houston, and The Shepherd School of Music at Rice University.
Acoustic Contemporary Jazz, Young's first solo album, was released on the Pacific Coast Jazz label in 2008 to positive reviews. Over the course of his career, Young has performed in 19 countries and across five of the seven continents. He has also recorded and toured with a wide range of artists. In the blues arena, he has worked with artists such as Sam "Lightnin'" Hopkins and B.B. King; in the R&B world, with Gerald Alston, Anita Baker, Regina Belle, Johnny Kemp and The Spinners. He has also worked with urban/rap artists Scarface and Mista Madd and with the jazz musicians Jonathan Butler, Betty Carter, McCoy Tyner and Nancy Wilson. In 1993, Young was invited to conduct the National Symphony of South Africa for a televised concert to honor the South African–born Abdullah Ibrahim (formerly known as "Dollar Brand"). In so doing, Young became the first African American to conduct an orchestra in that country.
"Welcoming Horace Alexander Young to lead the Contemporary Music Department is a great evolution of our program, which began almost 20 years ago," said Debra Tervala, interim provost at SFUAD. "Horace brings his wealth of live concert, touring and educational expertise to this new role, and we are confident that these professional experiences will influence and inspire SFUAD music students."
Young holds a Bachelor of Music degree from Texas Southern University and an MA from Washington State University. In addition to performing and recording with artists all over the world, he authored the book Improvising Jazz Flute (1990, G. Schirmer Publishers) and has bylined articles in journals such as Flute Talk, American Music Teacher, Flute Focus and Gig Magazine.
About SFUAD's Contemporary Music Department:
The Contemporary Music Program at Santa Fe University of Art and Design educates students in contemporary and classical music, world music, digital technology and recording techniques, with a heavy emphasis on performing and community involvement. Throughout the year, students have the opportunity to tour, reaching different audiences and enriching not only their academic experience but also their ability to communicate through original compositions, their instrument and their voice.
About Santa Fe University of Art and Design:
Santa Fe University of Art and Design is an accredited institution located in Santa Fe, New Mexico, one of the world's leading centers for art and design. The university offers degrees in arts management, contemporary music, creative writing, digital arts, graphic design, film, performing arts, photography and studio art. Faculty members are practicing artists who teach students in small groups, following a unique interdisciplinary curriculum that combines hands-on experience with core theory and prepares graduates to become well-rounded, creative, problem-solving professionals. As a Laureate Design University, SFUAD boasts an international student body and opportunities to study abroad, encouraging students to develop a global perspective on the arts. Santa Fe University of Art and Design is accredited by The Higher Learning Commission and a member of the North Central Association, http://www.ncahlc.org.
# # #